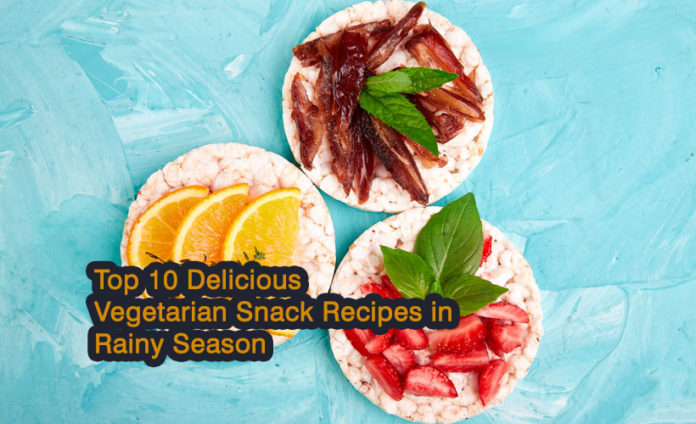 Monsoon season means the desire to have delicious tasty snacks. Mouthwatering recipes are available to choose from and these can be prepared at home.
Monsoon season means changes in the weather. In India, monsoon season comes after summer. It comes with rainfall and stays for 3-4 months. This season does make a person feel hungry for hot tasty snacks.
As soon as the rainy season begins people like to have fried and hot snacks. These snacks are very yummy with vegetarian dips such as mint chutney, coconut chutney, and chatpata green chutney. The fried crispy snacks taste well with a hot cup of tea. It is fun having these delicious vegetarian snack recipes.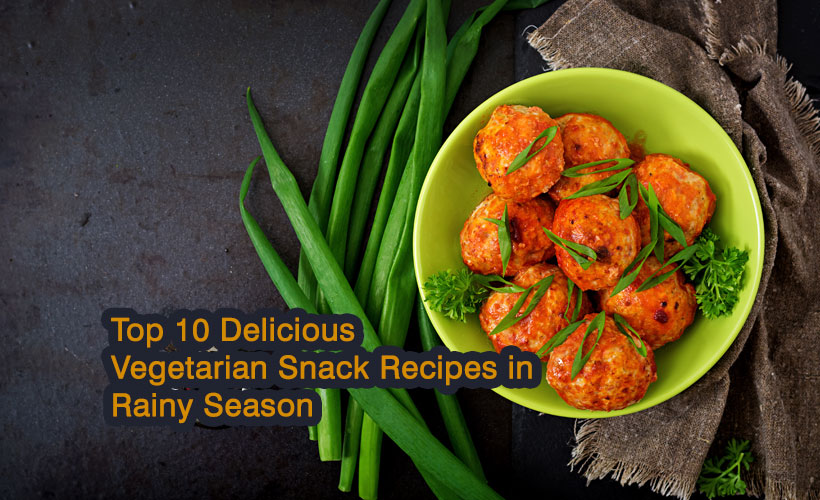 1. Crispy Onion Pakora Recipe:
The special fried snack originated in India named as pakora. Onion pakora is very popular and famous during monsoon. It tastes good with fried green chilies and a cup of Indian masala chai.
This is one of the tasty delicious vegetarian snack recipes.
2. Kothimbir Vadi – A Maharashtrian Cuisine:
Kothimbir Vadi happens to be the famous tea time snack. It can be made rather quickly. Light as well as healthy fried bites for kids as well as for elders. Coriander leaves are rather kneaded with besan flour and some Indian spices. Then it has to be deep-fried in hot oil. It can be had with any chutney.
3. Cheese Corn Balls Recipe:
Cheese corn balls are indeed small round shaped balls made from sweet corn as well as cheese. Cheese in it does give a cheesy and a yummy taste. Cheese corn balls are tasty as well as healthy, because of sweet corn in it. Delicious vegetarian snack recipes can be had in this manner.
4. Quick Dahi Poha Cutlets Recipe:
Dahi poha cutlets are good for morning breakfast as well as snack time. Ingredients used in these cutlets do help in keeping away a person from hunger for a longer time. Cutlets are no doubt healthy and best food recipes for monsoon season. They are mostly served with sauces as well as green chutney.
5. Grilled Paneer Tikka Recipe:
The marinated paneer, onion and capsicum pieces are grilled in the tandoor and are referred to as paneer tikka with an Indian touch. It is indeed a famous street food mostly taken in the monsoon. Marination gives it a delicious taste.
6. Veggie Sprout Tikki Burger:
The burger happens to be popular street snacks in all the season and all over the world. The patty is made with vegetables as well as a sprout. It is set between two burger buns along with onion, tomato slices with lots of cheese as well as sauces. It tastes quite like cheese and is delicious. It is a simple and quick recipe to make.
7. Crunchy Mushroom Manchurian Recipe:
The kids and elders do love this recipe and it can be served as a snack or starter. Mushroom does promote lots of health benefits.
8.Cabbage Pakoda Recipe At Home:
It appears to be a pakoda made of cabbage referred to as pakoda. It is tasty as well as a crispy snack to be had during the monsoon season with a cup of coffee. It can be served with green chutney.
9. Cocktail Samosa Recipe:
Samosa does happen to be one of the favorite street snacks for many Indian people. Samosa is the fried snack that is filled with stuffing.
10. Tomato Omelette Recipe:
Tomato omelet is tasty during the rainy season. It has lots of health benefits. Also, it helps in killing hunger. It can be served as a morning breakfast. It can be had at lunch or dinner time as a side dish.
Also-read: Best Zinc Foods For Vegetarians