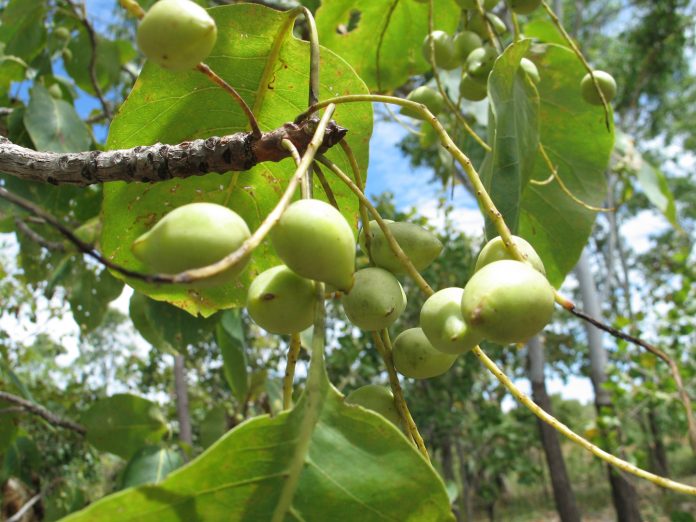 The Kakadu plum is a pale olive fruit which is native to Australia and is considered to be a gift by the Aboriginal culture. The fruit has been around for centuries and is said to have the highest source of Vitamin C. So much so that it has 100 times more Vitamin C than does oranges. The small green fruit, about two centimeters in size has been used as a natural medicine to treat a number of skin conditions. Read about Kakadu Plums Health Benefits
Kakadu Plums have been used in a number of beauty products and regimes simply because of their wonder composition. Kakadu Plums are rich in the following:
1. Vitamin E
Vitamin E helps to repair and heal the skin. Also, as an antioxidant, it helps to protect against free radicals.
2. Phytochemicals
A phytochemical by the name Gallic acid present in Kakadu plums helps to fight inflammation, which is tied to skin conditions such as acne.
3. Minerals
Rich in minerals such as iron, zinc, lutein and folate is Kakadu plums, all of which are required for a healthy clear complexion.
The health benefits of Kakadu plums are as follows
1. Weight Loss
Kakadu Plums when consumed as a part of your daily diet helps in weight loss. The antioxidants present in them help to fight against fat cells that prevent weight gain. This helps to cure metabolic syndrome, which is tied to hypertension, obesity and disturbed glucose metabolism.
2. Hair Health
These plums moisturize and hydrate your hair, maintaining the levels of collagen and elastin, which is required for lustrous hair. A few shampoos these days incorporate this wonder plum adding gloss and moisture to your hair. Regular use of these shampoos smoothen and detangle hair.
3. Gets Rid of Pimples
Pimple causing bacteria are kept at bay with Kakadu plums. When mixed with clay, it soothes and clears your skin, flushing of the impurities, leaving you with an even complexion. When this beauty regime is followed up every day for a week, the results seen are tremendous. Spots, pimples and blemishes are long gone.
4. Fights Cancer
Kakadu plums have phytochemicals such as Gallic acid and ellagic acid in its constitution. Gallic acid boasts of antibacterial, antiviral, anti inflammatory, anti tumor, anti mutagenic and antifungal properties. Ellagic Acid display anti carcinogenic effects which is required to maintain healthy tissues.
5. Reduces Wrinkles
Vitamin C has the ability to reduce wrinkles and age spots. It also provides collagen support, reducing hyperpigmentation and prevention of skin changes brought about by photoaging. A regular application of Vitamin C on your skin for three months straight reduces wrinkles and improves skin tones and texture. The trace minerals and antioxidants present in these plums invigorate and nourish the skin, preventing premature aging in the process.
Do you need more reasons to cash in on Kakadu Plums? With a multitude of health benefits to offer, there is no dearth of the ways the best of these plums can be extracted.