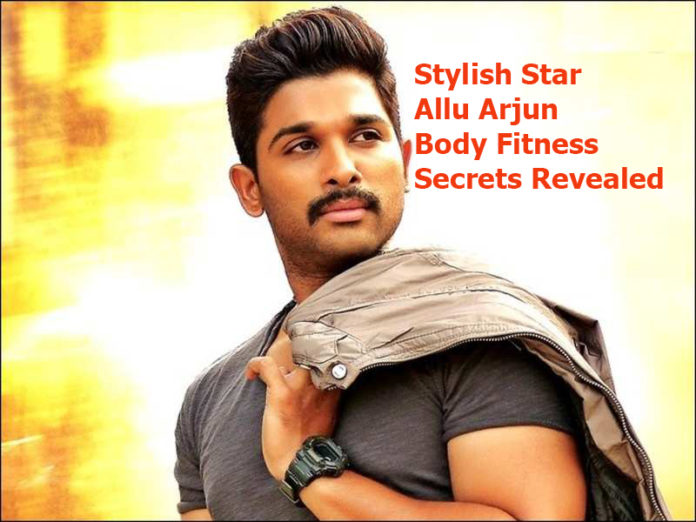 Cine stars would prefer to have a perfect body these days, whether it implies working out till one drop or going on a strict diet, and the stars are indeed no exception. Allu Arjun is popular for his body shape. Stylish star Allu Arjun, fitness secret is true of much interest to his fans. It is but natural for a cine star to ensure that he stays fit.
In fact, in their business, they do need to look their best and unlike some of their predecessors, New Age stars are rather keeping a close eye on what they eat and their workouts.
Some have hired trainers and do strenuous workouts, while others have turned vegetarian. Perhaps the men do feel the need to keep up with their svelte and sexy co-stars and look good with them on screen.
Most of the reigning stars such as Mahesh Babu, Ram Charan Tej, Naga Chaitanya, Rana, and Allu Arjun do have great physiques and their hiring trainers and cooks show their fascination for a healthy lifestyle.
Allu Arjun body shape:
Allu Arjun also does rely on a strenuous workout in order to keep his fabulous body in shape.
He admires Salman Khan's work out. In fact, Allu Arjun rarely misses out a workout, burning the calories that a person consumes the best way in order to keep one's appetite and body in good humor.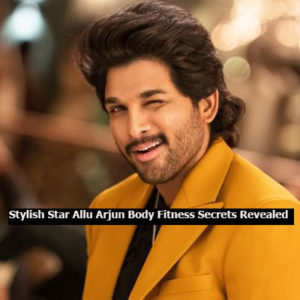 Allu Arjun is popular as a stylish star in the film industry on account of his unique acting as well as dancing skills. He is indeed improving himself day by day. Allu Arjun is also known for his changing hairstyle in each movie. The latest movie of Allu Arjun is "Ala Vaikunthapurramuloo". In this movie, he has done an excellent job with rocking performance. Stylish star Allu Arjun, fitness secret is worth taking note of.
What is the fitness program of Allu Arjun?
He happens to be very strict about his workout routine. He then follows the daily exercise routine with some important health tips, fitness tips, and more diet tips. Recently he did a lot of effort on his fitness for the movie "Ala Vaikunthapurramuloo".
1. Allu Arjun hit the gym 5 days a week and he is very strict about his workout routine.
2. He firstly does 15-20 minutes of cardio or cycling or jogging.
3.After he does workout training.
4. Allu Arjun focused on the full-body workout.
5. He also focuses on power workout training.
Allu Arjun Stylish Star of Tollywood is aware of a nutritious diet plan and fitness. He follows a diet plan. In his diet plan of Allu Arjun mostly includes white eggs, grilled chicken, lean meats.
 Before Workout: Pre-workout Protein Shake.
 Breakfast: Oats, white eggs, milk, brown bread, and fruits.
 Launch: Grilled chicken, Green Vegetables, Fruits shake.
Evening Breakfast: Egg whites or sweet potato.
Dinner: Green Beans, Corn, Brown Rice, Salads.
Stylish star Allu Arjun, fitness secret dos inform us about the overall health care approach of the cine star.
Conclusion:
Cine star stays very fit and follows a diet and exercise plan that ensures an attractive body shape. Similar to all cone stars he ensures that he maintains good health. Naturally, a cine star needs a good body shape.
Allu Arjun does take care of his health and exercise and diet are well maintained on a regular basis. An attractive body does ensure popularity and apart from acting physique also matters for an actor.
Stylish star Allu Arjun, fitness secret is very interesting to be taken note.
also read: Ram Charan Workout and Diet Secrets Revealed