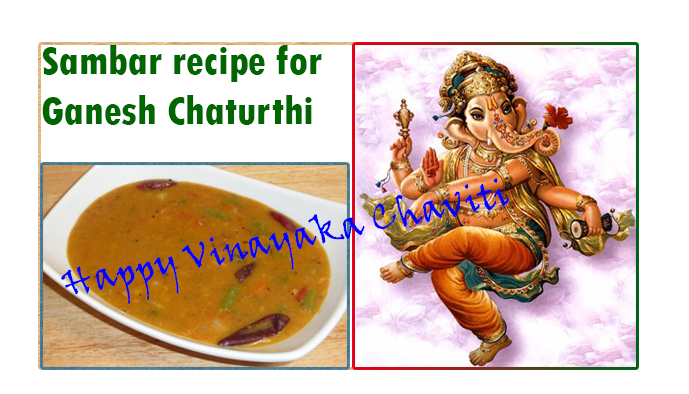 Sambar Recipe For Ganesh Chaturthi
#sambarrecipe #ganeshvhaturthi #recipeforganeshchaturthi
Ganapathi Bappa Moriya!!! Yes, once again it's time to celebrate Vinayaka Chaturthi. The entire nation wants to celebrate Ganesh Chaturthi.
On 17th of September, it's Ganesh Chaturthi. On this auspicious occasion, several food items have prepared for Lord Ganesha.
Apart from the sweets and snacks, today we shall teach you to make the main course sambar recipe for Ganesh Chaturthi.
Vegetable Sambar is an important dish that has offered as nivedya for Lord Ganesha. Vegetable sambar tastes yummy when served with hot rice and ghee.
So, let us start preparing vegetable sambar recipe for Ganesh Chathurthi.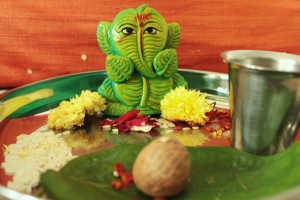 Ingredients to prepare Sambar Recipe For Ganesh Chaturthi
Toor Dal : 1 cup
Bengal gram : 3 tbsp
Red chilli : 4 to 5
Coriander seeds : 2 tbsp
Cumin seeds :2 tbsp
Fenugreek seeds : 2tbsp
Coconut – Grated 1 cup
Beans : 1 cup
Carrot : 1 cup
Ground nuts : 1 cup
Pumpkin : 1 cup
Tomatoes : 1 cup
Mustard seeds : 1 tbsp
Curry leaves : few
Oil : 4 tsp
Salt to taste
Method to prepare Sambar Recipe For Ganesh Chaturthi
Keep the pan on the stove & once it is heated, add Bengal gram & fry it for 2 to 3 minutes. Keep it aside.
To make masala, separately fry red chilli, coriander seeds, cumin seeds, fenugreek seeds.
Wait for five minutes for it to cool down.
Now in the mixing jar add the fried items and coconut and a little amount of water. Grind it to make the fine paste.
Now in a pressure cooker add 1 cup of the toor dal neatly cut beans, tomato, pumpkin, carrot, and groundnuts and some water and close the lid of the pressure cooker. Wait for three whistles.
Now in the pan, add oil, mustard seeds & cumin leaves. Then add the toor dal and boiled vegetables. Add some water, and then add the ground masala paste & salt to taste.
Do not add more water. Make sure the sambar is thick sufficient.
Now serve the hot sambar recipe with hot rice & ghee.
Photo credit : Google search