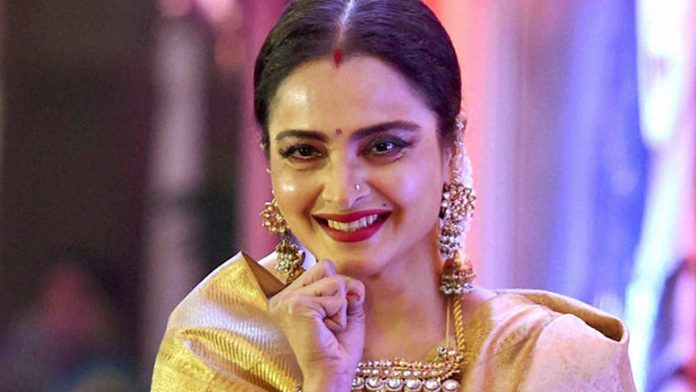 Rekha real name was Bhanurekha Ganesan (born 10 October 1954), is an Indian film actress. Noted for her versatility and acknowledged as one of the finest actresses in Indian cinema industry, Rekha started her career in 1966 as a child actress in the Telugu Cinema Rangula Ratnam, though her movie debut as a lead happened four years later with Sawan Bhadon. Despite the success of several of her early movies, she was often panned for her looks and it was not until the mid-to-late 1970s that she got recognition as a top actress.
Rekha's Makeup Secrets
Makeup and cosmetics – Rekha loves makeup and was the person to introduce the oil-based makeup in Bollywood when her contemporaries were using talc-based dry makeup. She does her own makeup for her movies and does look stunning and sports bold lip colors and eye makeup.
Cleansing and moisturizing – The actress adopts a regular cleansing, toning as well as the moisturizing regime and does ensure that she gets rid of all the makeup from her skin before she sleeps.
Aromatherapy and Ayurvedic spa treatment – She also goes in for Ayurveda and aromatherapy and has spa sessions at home.
Believes in happy and stress-free life.
Believes in the natural goodness of gooseberry or amla, shikakai, fenugreek seeds as well as, coconut oil in order to maintain strong and healthy hair.
She makes use of a natural hair pack of honey, curd, and egg white once a week to ensure that beautiful, long as well as shiny tresses.
She never uses a comb when her hair is wet and also prefers drying it naturally in order to avoid hair dryers.

Rekha's Diet Plan
Water consumption – Drinks about 10 to 12 glasses throughout the day which sufficiently hydrates and detoxifies the skin and body. This is the reason why Rekha's skin is beautiful and radiant.
Healthy food: Rekha believes it is essential to maintain a healthy as well as nutritional diet plan in order to stay beautiful.
No junk food: Avoids unhealthy, junk, fried and overcooked food.
Avoid over-cooked food.
Rekha's Fitness Secret
Sleeps well – She sleeps early and ensures she gets proper sleep every day and helps the actress to stay fit, beautiful, healthy as well as energetic all along.
Exercise – Rekha does exercise regularly for about 10 to 15 minutes to stay fit as well as active.
Yoga and meditation – The actress have been an ardent lover of yoga and meditation for many years has practiced it regularly on daily basis. She does them keeping in mind her ageless beauty, svelte body, and charismatic persona.
Dancing and home chores – Rekha does love to dance and is also believes in utmost cleanliness. The home chores, dancing as well as gardening are natural workouts for her.
The above are the Indian Film Actress Rekha Beauty, Fitness Tips & Diet Plan