Paneer parantha is a popular dish among Punjabis who prefer to have it as their breakfast. Others will also enjoy the delicious taste. It is easy to prepare at home.
It is a well-acknowledged fact that paneer paratha is indeed very satiating and comforting. In fact, a parantha stuffed with delicious vegetables is filling and so is paneer parantha. All Punjabis love the taste of paneer parantha.
It is basically an Indian flatbread recipe stuffed with grated cottage cheese and spice powders. These can be easily served for lunch and dinner, but not limited to try it out for breakfast.
Paneer paratha, paneer recipe is the favorite recipe with housewives to please their family!
Paneer parantha is a popular Indian dish and Punjabis has it for breakfast. Paneer is known as Indian Cheese. In fact, paneer snacks are very tasty. The dish that is paneer paranthas can be served to family and guests. One can top these paranthas with homemade butter. It is delicious taste indeed to try out! Other popular paranthas are mooli parantha, Gobi parantha, Aloo Parantha as well as methi parantha.
The all-time favorite paneer paratha usually made at home is also served in most restaurants as well as Punjabi Dhaba (roadside eateries). These paranthas can be prepared in any sort of shape such as square, Triangle and even heptagonal. Served hot it tastes delicious and can be had with pickle and curd. Paneer paratha, paneer recipe can be tried out easily at home.
Ingredients of paneer parantha
• 1/2 cup wheat flour
• 1 teaspoon garam masala powder
• salt as required
• 1/2 cup all-purpose flour
• 1/2 teaspoon powdered turmeric
• 1 tablespoon red chili powder
• 1/2 teaspoon cumin seeds
• 200 gm paneer
• 4 teaspoon grated coconut
• 3 tablespoon ghee
• 1 1/2 tablespoon refined oil
• 1 1/2 teaspoon coriander powder
• 1 cup chopped coriander leaves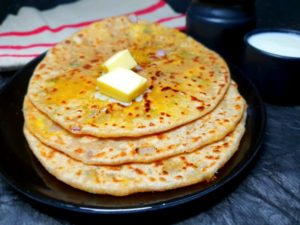 Step 1
In order to prepare this mouth-watering paratha recipe, one needs to take a dough kneading plate and mix together all-purpose flour or maida, wheat flour, salt, and ghee. Making use of a little water, knead the ingredients well into a soft and smooth dough. Keep this dough aside for a while till the stuffing is prepared.
Step 2
Next, put a pan on medium flame and then heat a little oil in it. Once the oil is hot enough, add the cumin seeds in it and let them crackle for a few seconds. Later, add the grated coconut and the crumbled paneer in it along with salt and turmeric. Cook for about a minute and then add coriander powder, red chili powder and garam masala powder in the pan and mix the content well. Cook for 2-3 minutes, sprinkle the chopped coriander leaves and switch off the burner. Transfer to a bowl and keep this mixture aside to cool down.
Step 3
Then one needs to take out a small portion of the dough and put a Tawa on medium flame. Making use of a rolling pin, roll the dough into a small puri and stuff it with the prepared paneer mixture and fold well into a ball. Making use of a little dry flour, carefully roll the ball into a paratha and then put it on Tawa. Finely chopped green chilies can indeed also be added to paneer stuffing in order to make it spicier.
Step 4
Cook the paratha from both sides thus using a little ghee until the texture is rather somewhat brown and serve with curd or pickle, as you like.
Conclusion
Tasty breakfast with paneer paranthas will make one's day a good start. Families enjoy their delicious taste.