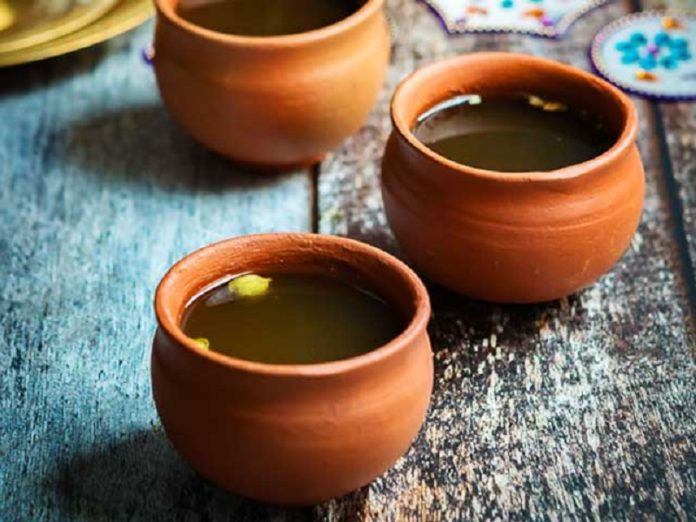 Panakam is a favorite South Indian cool drink that is taken during the hot summertime. It is taken on Ram Navami, a religious occasion and is easy to prepare. It is tasty.
Panakam happens to be a cooling drink and is part of South Indian cuisine. It is especially had during Ram Navami. It is taken as a cool drink during the heat of summertime. It is delicious and tasty no doubt.
Panakam is also referred to as panagam or panaka. Preparing panakam is quite easy and it is made with lemon juice, jaggery, ginger powder, cardamom powder, and black pepper.
As a cooling beverage, panakam is healthy to have and is definitely a better soft drink. Do try this healthy and cooling drink in summers and as one will certainly prefer it. Panakam recipe is easy to prepare.
Panakam is a Sanskrit word which in simple terms means 'a sweet drink' and is traditionally served on the Sri Rama Navami festival. During the summer festivals of Tamil Nadu paanakam or paanakaram is served as naivedyam or prasadam.
In ancient times, panakam was consumed to prevent the human body from chickenpox as chickenpox gets contracted easily during summer
Health benefits of jaggery:
Rich in iron and magnesium
Natural source of minerals and vitamins
Cools down the body
Prevents constipation due to the presence of natural fiber
Cleanses the body
Health benefits of black pepper:
Excellent source of calcium, phosphorus, potassium as well as magnesium
Has both antibacterial and antioxidant properties
Natural way to cure a cold, cough and congestion
Health benefits of ginger:
Rich in potassium and also does contain vitamin A, C, and E
Excellent home remedy for colds, cough, and congestion.
Good for indigestion, nausea, pregnancy-related morning sickness and motion sickness
Health benefits of lemon:
Rich in Vitamin B and C complex
Has antiseptic properties
Controls high blood pressure
Good for indigestion as well as constipation
Health benefits of cardamom:
Rich in calcium, potassium, phosphorus, magnesium and Vitamin C
Treats teeth and gum infection
Good for chest congestion
It is also good for treating digestive ailments
Health benefits of Tulsi:
Tulsi is rich in calcium and iron
Tulsi is a good source of vitamin K and vitamin A
It has an antibacterial effect, thus protecting against bacterial infections
It cures colds, cough, and congestion
How to prepare?
Step by step panakam recipe preparation method:
Take 1/3 cup of crushed or powdered jaggery and soak in 1 1/4 cup drinking water for 10 to 15 minutes. Once dissolved completely, it is advisable to filter down the impurities making use of a fine mesh.
To this add lemon juice taken from one lemon, 1/4 teaspoon crushed black pepper, 1/4 teaspoon dry ginger powder (or grated fresh ginger), two pods of crushed cardamom, pinch salt and mix well.
Garnish with a few tulsi leaves. Refrigerate it and serve.
Ingredients
Grated Jaggery – ⅓ cup or less than that
Drinking water – 1.5 cup
Lemon juice – from 1 lemon
Elachi – 1 or 2
Dry ginger powder or freshly grated ginger – ¼ teaspoon
Crushed peppercorn (optional) -1/4 teaspoon
Tulsi leaves – few leaves
Salt – a pinch
Instructions
Soak crushed or powdered jaggery in 1.5 cup drinking water for 15 minutes
Then mix the jaggery water nicely and making use of a fine mesh filter it to remove the impurities
Next add lemon juice from a lemon, dry ginger powder, crushed cardamom, crushed pepper, pinch salt and then mix well
Garnish with tulsi leaves and thereafter mix well.
Refrigerate it and go ahead and serve it chilled