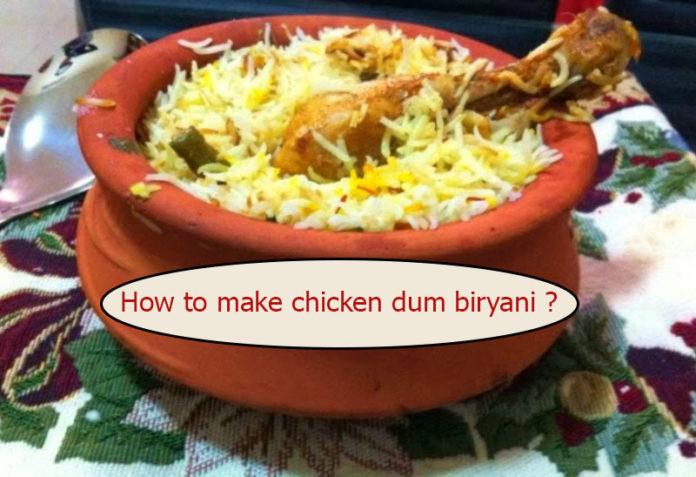 Hyderabad and world over love the taste of chicken dum biryani. It requires an ingredient that does add to its tasty flavor. One can prepare it at home and serve it to the guests.
Hyderabadi Dum Biryani is a world-famous dish from India, native to Hyderabad. As a non-vegetarian delicacy, it is a meal in itself. Chicken dum biryani, chicken biryani, chicken curry is tasty.
How to make this Biryani recipe?
This rice dish consists of two major ingredients – chicken and basmati rice. Chicken Dum Biryani is cooked with basmati rice and boneless chicken marinated in herbs as well as spices. Biryani was originally made in the kitchens of the Mughal Emperors. It is known as dum biryani as it is prepared on low heat (dum) in order to get the flavors from the herbs and then mix them in meat as well as rice.
Main Ingredients:
• 2 cups long-grained basmati rice
• 500gm boneless chicken thighs or 750 gm chicken on the bone
• 4 cups of water
• Salt to taste
Marination Ingredients:
• 1 cup hung curd
• 2tbasp ginger-garlic paste
• 4 green chilies crushed
• 1/2 tsp white sesame seeds paste
• 2 tbsp cashew nuts-almonds paste
• 2tsp lemon juice
• ½ tsp red chili powder
• ½ tsp turmeric powder
• 1tsp ground coriander
• 1/2garam masala powder
• 2 tbsp fresh cilantro finely chopped
• 1 tbsp mint leaves thinly chopped
• Salt to taste
Whole Gram Masala Ingredients:
• 1 bay leaf
• 2 whole Kashmir red chilies
• 2 green cardamoms
• 2cloves
• 1-1/2 inch cinnamon stick (cut into bits)
• 1 mace
• 2-star anise
• ¾ tsp whole cumin seeds (jeera)
Other ingredients :
• 1 big onion (cut into slices)
• 1 small onion coarsely chopped
• 2 tsp fennel or saunf powder
• 1 tsp yellow chili powder
• ½ tsp cardamom powder
• ½ cup fresh cream
• Few saffron strands
• 4 tbsp milk
• 11/2 tbsp rose water
• Few ginger julienne
• 2 tbsp pure ghee
• Some brown onions to garnish.
How to prepare?
Cook the Rice:
• Wash the rice thoroughly in normal tap water and soak for about 30 minutes
• Soak the saffron in milk and set aside
• Heat 2 cups of water in a big pan
• Add salt and rose water
• When the water starts boiling then add rice into it.
• Cook the rice over medium-high heat for about 10-12 minutes and then simmer the flame. When the rice is 3/4th done, then take out half of the cooked rice from the pan and remaining rice are to be set aside.
Cook the Chicken:
• In a medium-size bowl, mix all the marinade ingredients
• Cut the chicken into small size pieces and add it into the marinade mixture.
• Coat the chicken pieces into the mixture, cover and then set aside for about 30 to 40 minutes.
• Meanwhile, heat a big non-stick pan and melt the ghee in it.
• Add whole garam masala and sauté for few seconds over moderate heat.
• When the spices do turn into little brown then add onions.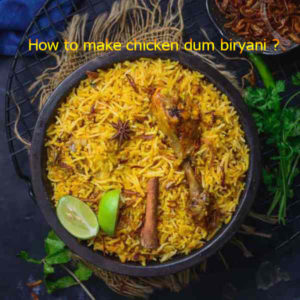 • Cook the onion on a low flame and make sure that they should not change their color.
• Stir constantly if the heat is getting too high.
• Put a little bit of water to get a nice and glossy color of onions.
• When onions are well cooked, add the marinated chicken along with its whole mixture.
• Now add fennel and yellow chili powder.
• Mix it well and adjust with the salt.
• At this moment, add 1-1/2 cups of water and leave to cook for 6 to 8 months on medium heat.
• Once the chicken seems almost done, then one can mix cardamom powder along with fresh cream.
• Remove from heat and allow to cool down.
• When the chicken cools down, take the chicken pieces out and strain the whole gravy over the pieces of chicken.
• Garnish with some chopped cilantro and set aside
How now to prepare Chicken Dum Biryani?
Chicken dum biryani, chicken biryani, chicken curry is a dish that needs to be prepared with all the required ingredients for taste.
• Spread an even layer of the prepared chicken over the rice left in the pan and spread some saffron mixture.
• Garnish the biryani with some brown onions.
• Now make the layer of remaining rice and chicken, top with the saffron mixture, chopped cilantro, and ginger julienne.
• Then cook this biryani on a very low flame and there are two ways to cook it on dum without exploring out the steam.
• Cover the pot with an aluminum foil.
• Carefully place the lid over the foil and immediately reduce the flame. Or one can make a  flour dough, stick on the lid and cover the pot.
• Make sure the steam should not come out.
• Let it cook on low flame on dum (low heat) for about 6 to 7 minutes.
• Serve the delicious chicken dum biryani very hot with few round onion slices, lemon wedges and raita of one's choice.
Chicken dum biryani, chicken biryani, chicken curry can be prepared in the style.