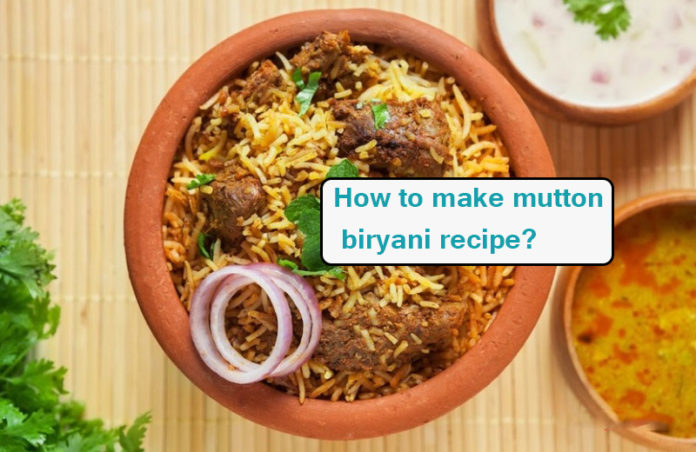 Mutton biryani is a tasty, popular dish and can be served on special occasions. It is a Nizami era dish of Hyderabad and tastes delicious when served hot.
Food is well appreciated if it is served well and most hostesses would like their guests to relish their savories. Hyderabad is known for its Biryani and all over the world, the mutton biryani cuisine is famous. Biryani recipe, mutton biryani, the mutton recipe is very tasty indeed!
Mutton Biryani is a dish much acknowledged as a royal recipe full of flavors as biryani is usually considered so. It is a very popular dish and is prepared to make use of flavorful spices and herbs. This biryani is popular for its taste as well as the method of cooking. It is a known fact that there are 3 ways of cooking Mutton Biryani. One of the popular methods of preparing this biryani recipe is Pakki Dum Mutton Biryani in which the mutton as well as rice, are cooked separately and then steamed until the biryani is cooked completely in layers. Another method is cooking Kacchi Mutton Biryani (also known as Kacche gosht ki biryani), in which the mutton is, of course, marinated first and then cooked with half-cooked rice in layers. Then eventually one needs to cook the mutton biryani in a pressure cooker.
This is indeed a regal dish straight from the lands of the Nizams.
The marination time of mutton can also rather vary in all these methods, which does directly impact the tenderness and the flavor of the meat. Think of any biryani recipe and then one would naturally realize that it does take a lot to prepare biryanis; however, if one has the will it will be made easily and will be flavorful as well. While preparing this delicacy, it is also very important to choose the right rice for biryani. If one will not choose high-quality basmati rice, it will result in the texture and will indeed hamper the taste as well. So, in order to make a mouth-watering Mutton Biryani, use the basmati rice that has long grains. The longer the grain of basmati rice and the greater the flavor of the dish will be. So, why delay the tasting of this delicious dish? Try this Nizam's delicacy and enjoy its taste with other loved ones! Biryani recipe, mutton biryani, the mutton recipe needs to be tried out.
Recipe:
• 2 cup basmati rice
• 2 green cardamom
• 1/2 cup ghee
• 1 bay leaf
• 1 tablespoon ginger paste
• 1/2 cup cashews
• 1 teaspoon garam masala powder
• 2 dashes saffron
• 1 kilograms mutton
• 1/2 cup fresh cream
• 4 red chili
• 2 teaspoon cumin
• 1 tablespoon garlic paste
• 1/2 cup raisins
• 1/4 cup milk
• 1 cinnamon stick
For Marination
• 1 cup yogurt (curd)
• 1/2 cup mustard oil
• 1 teaspoon turmeric
• 1/4 teaspoon powdered star anise
• 1 teaspoon cumin powder
• salt as required
• 1 teaspoon coriander powder
• 1 teaspoon red chili powder
For Garnishing
• 1 cup thinly sliced onion
• 1 teaspoon chopped mint leaves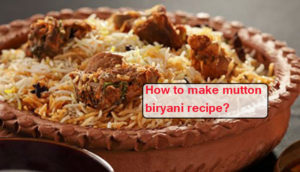 • Step 1
Mutton Biryani is accepted as a classic one-pot meal that can rather easily be made if a person knows the right proportion of rice, meat, and spices. In order to make this quick Mutton Biryani recipe, first clean and wash mutton under running water. Pat dry with a kitchen towel and keep aside. Biryani recipe, mutton biryani, the mutton recipe can be tried out on special occasions.
• Step 2
Now, add all the marination ingredients in it. Rub well with one's fingers so that the marination spreads evenly. Ideally one needs to leave this meat in the refrigerator overnight. In case of sudden guests coming, then make use of a fork to boreholes in the mutton, marinate and keep aside for 1-2 hours.
• Step 3
Meanwhile, parboil the rice and keep aside, and spread it on a plate. If one tends to overcook the rice, it will turn sticky, when mixed with the mutton. Dissolve the saffron in ¼ cup milk. Heat some ghee in a pan and fry the cashews and the raisins.
• Step 4
Slice the onions and fry them in the same amount of ghee. Reserve half of the onions and keep aside. Remove the mutton from the refrigerator and allow the content to come down to room temperature. This step is important for the proper cooking of the meat. Heat the ghee in a deep bottomed vessel. The lid needs to be tight.
• Step 5
Once the ghee is rather hot, add the whole spices-cinnamon, bay leaf, cardamoms, and cumin. Allow these contents to splutter. Add whole red chilies and also marinate the mutton pieces. Add the onions, ginger and garlic paste and cook covered till the mutton is tender.
• Step 6
Now add garam masala and roast the mutton till the entire water is absorbed and the oil separates from it. Remove the mutton from the pan. In the same pan do add a layer of cooked rice, followed by a layer of mutton and then again a layer of rice. Between each layer, try to sprinkle some dry fruits.
• Step 7
The topmost layer needs to be rice. Now add the Kesar dissolved milk s well as cream. Pour this evenly over the rice. Cover the lid and cook on low flame for 10-12 minutes. Remove from fire and then garnish with onions, mint, kasoori methi, coriander and serve hot with raita.