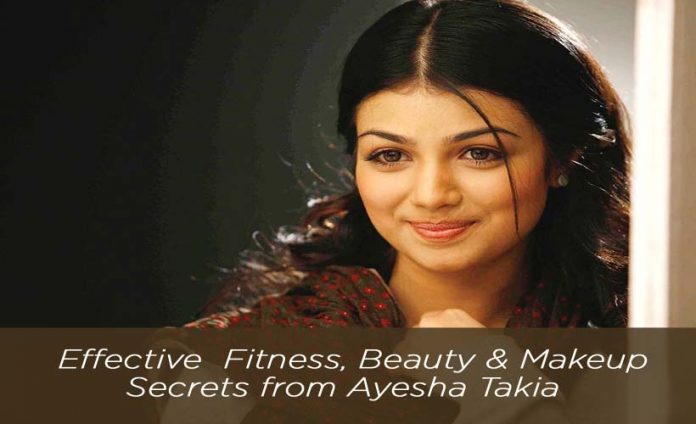 It is indeed worth knowing more about beauty and fitness secrets of Bollywood celebrity, the super curvaceous Ayesha Takia Azmi.
'Tarzan-The Wonder Car', brought Ayesha much into the limelight in Bollywood and via it, she made her mark there. She was popular for her innocent looks and she has also indeed received an award for her very first film. She is quite well known for her versatile acting skills and she got married to Farhan Azim, her longtime boyfriend. Farhan Azim is a restaurateur and also the son of Samajwadi Party leader Abu Azmi. Now she is the happily married mother.
Her beauty attracted many and also became known for her simplicity as well as beauty. She is a down to earth person and the-girl-next-door beauty. She is someone who anyone would admire a lot and also want to be like her. She looks superb even without makeup. She maintains a super fit body and did shed quite a few pounds to ensure it. Her sexy figure is very appealing.
Fitness Secrets of Ayesha Takia:
1. She believes in losing those extra kilos for the perfect and attractive figure. She maintains a slim figure.
2. She believes in a regular strenuous workout schedule and 2 hours of aerobics sessions daily. She also goes in for yoga and meditation.
3. Yoga and meditation have not only helped her get in shape but also has enhanced her natural beauty.
Diet Secrets of Ayesha Takia:
4. Ayesha went in for a no carb' diet in order to achieve her target weight. She did not eat rice and bread and even avoided a roti. She went in for pure vegetarian food.
5. She does not indulge in smoking, alcohol or drugs.
6. Her diet consists mainly of boiled vegetables, as well as fruit and also vegetable juices such as that of carrot, orange, watermelon, as well as coconut water.
7. She indeed has a sweet-tooth for chocolates and pastries; she manages to resist the temptation. It is difficult to survive only on fruits as well as veggies.
Fashion and Style:
8. Ayesha is not all that fond of wearing specific brands or even designer wears. She does not like being imposed by brand style but rather go in for her own style of wearing.
9. Her favorite brands are Mango, Zara, Fcuk, Guess, and G-Star. Her basic style is to dress in jeans, shirt, jacket and any footwear with heels, especially boots.
10. She adorns herself with gold waistband, silver naval rings, finger rings and payables which are her favorite possessions. She likes making use of belts.
11. Her favorite shopping locales are Italy, Malaysia, Singapore, London, and Amsterdam.
Beauty Secrets of Ayesha Takia:
13. She has thick long lustrous tresses which draw much attention and praise. She has been fortunate to be blessed with such beautiful looking hair. People envy such hair. She takes immense care of her hair and also makes sure she oils it twice a week.
14. She also indeed has flawless skin and facial features, which looks beautiful even without makeup. Her healthy diet is also a factor. Her long neck does add to her beauty.
Makeup Tips of Ayesha Takia:
15. Mostly Ayesha does like to make use of less or no makeup when she is not shooting. She goes in for a natural candy look!
16. She can carry off all kinds of makeup from deep to light to nude as well as natural. All in fact look equally good on her. Blush-on, mascara and Mocha lipstick from Mac and chapstick from Molten Brown are her favorites. On her wedding day her makeup too, was soft and almost natural, thus matching her beige-golden wedding dress.
17. Off late Natasha Couture launched Ayesha Takia Designer Suits. She looks fantastic in these Gresham embroidered Indo-Pakistani suits.
18. Ayesha has perfect eyebrows, intoxicating eyes as well as a perfect nose and broad shoulders, Ayesha can indeed break a person's heart with her natural beauty! Do you like Ayesha Takia? Do you think you can follow her diet plan to shed some weight? Share your views with us in the comments section below