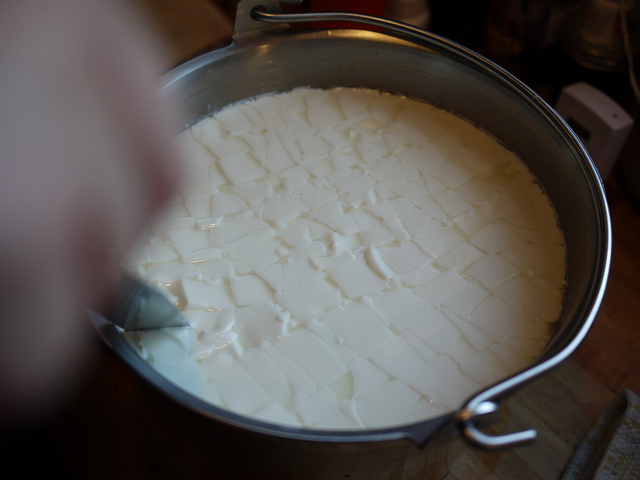 Yoghurt or curd is one of those amazing food items that have immense health benefits and to top it, it is great for the skin. It can effectively reduce pore size on one's face and also even out the skin tone. Curd also adds healthy glow to the skin and cleanses it. Because it is packed with the calcium, vitamin D and probiotics, yoghurt or curd can function well for both inside and outside the body. It also cures the sunburns and prevents premature ageing. We hope these many reasons are enough to encourage to add yoghurt or curd in your staple diet and witness the skin getting a healthy treatment every day. Know about yoghurt for healthy skin and hair.
Tip: To consume more yoghurt or curd, try replacing ice creams and milkshakes with flavoured yoghurts or yoghurt smoothies.
Curd or dahi is great digestive aid and cooling drink to have but it can also be a great way to improve the appearance of the hair and skin. Though eating curd will benefit the body internally, applying it directly on your face and scalp will have an added benefits. Throw expensive salon treatments and give yourself the hair and skin makeover at home using curd.
Benefits of curd for your hair
Helps tame frizzy hair
People with curly locks frequently end up with a lot of frizz. In order make it more manageable, make the  paste using 3 tbsp of dahi, 2 tbsp of coconut oil, and 4 tbsp of aloe vera gel. Apply this paste on the hair and leave to dry for about  ½ hr. Rinse with a mild shampoo. This will help soften the hair and also add some shine to the locks.
Adds shine to dry hair
Hair generally becomes rough and dry during winters. This can cause a problem for many but you always need an expensive haircare products. Beat out half cup of curd with 2 tbsp of almond oil and 2 beaten eggs. This paste may be the bit messy but will give you good results. Apply it on your scalp as well as hair and wear the plastic cap to let it nourish your hair. Wash away with the shampoo after 30 minutes.
Gets rid of dandruff
Curd has anti-fungal properties which makes it appropriate for getting rid of the dandruff. Besides this, it contains lactic acid since it is made from fermenting milk. Take cup full of curd and stir it well to smooth out any lumps. Now slather it on the scalp and let it be for an hour before wash your hair carefully. You can also add few ground, roasted black pepper corns to curd for an added effects. You could also get rid of dandruff with the apple cider vinegar, know more here.
Reduces  the hair fall
Don't lose the mind over hair loss. Control it with curd or youghart. Make paste of dahi and some ground fenugreek seeds or methi. Apply it on your scalp daily  before hair wash to see results. Do keep it for fortyfive minutes at least.
Gives silky locks
To make your tresses silky, you need to give it plenty protein and nourishment. Make the rich paste of curd, eggs, lemon juice, and honey and apply it on hair. Tie your hair into roll and rinse it after 30 minutes.
Benefits of curd for your skin
Removes tan
Excessive sun exposure can give you the tanned appearance which also results in the uneven skin tone. Although you cannot get rid of it in one go, using this paste daily will help to regain your original complexion. Mix gram flour or besan with the curd and lime juice and apply on the tanned skin. Keep for about 15 minutes and rinse off with water.
Adds glow
Add natural glow to the skin with this homemade pack of curd, masoor dal and dried orange peel. Grind them together with the few drops of honey as well and apply on face for about 15 minutes. Try using the tulsi or basil for the glowing skin.
Reduces scars
If you have an acne mark or insect bite which has left the mark, apply curd diluted with the water on it to not only cool it but also lighten it. Because it contains zinc which lightens the blemishes and provides relief from the redness.
Prevents acne
If you have an oily skin, you are prone to breakouts or acne. To prevent this, make the past of curd mixed with some of turmeric powder or haldi, some sugar and sandalwood powder or chandan. Now massage this on the face and rinse it with cold water after some time and pat dry. Try these packs with curd to get healthy skin and hair.
Photo credit: grongar / Foter / CC BY
Eat curd or yoghurt for healthy skin and hair