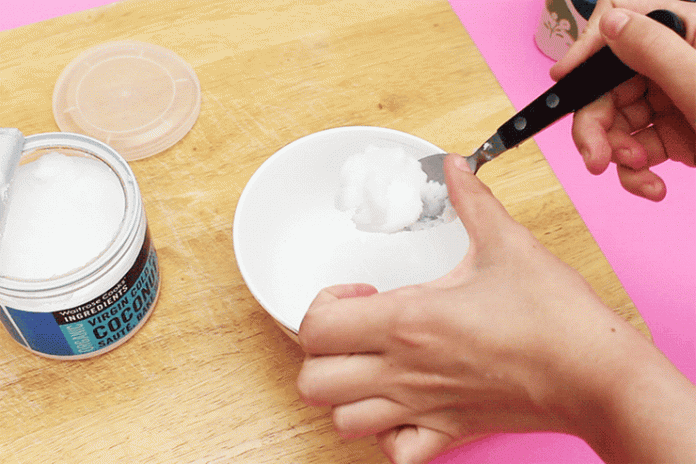 You love your facial skin and leave no stone to make it beautiful. But how much do you care for your arms and legs? Think beyond these bi-monthly or monthly sessions of waxing, manicure, and pedicure, girls! Your stems are also important parts of your body. Have fun as if you are chanting your face with a serum … ..well … with a homemade natural. Here are your ways to get silky arms and legs with DIY Homemade Smoothing Serum For Arms And Legs:
Recipe 1:
This simple and natural all-in-one serum for the arms & legs can brighten, exfoliate, hydrate and smooth out altogether. The components used are also from your kitchen only. So, try.
Ingredients:
Organic coconut oil: 2 heaped tablespoons (solid)
A spoon
Lemon: 1 small
White sugar: 2 tablespoons
A microwave-safe mixing bowl
An empty glass bottle
Procedure:
Put the solid organic coconut oil in a microwave-free mixing bowl and keep it inside the microwave for a few seconds.
Once the oil melts completely, remove the bowl from the oven and let it cool first.
Then stir the melted coconut oil with the spoon and make sure there are no bumps or bumps.
Add granules of white sugar. Also, squeeze the fresh lemon juice into the bowl.
Stir in all the ingredients well using the spoon. The goal is to completely dissolve the sugar granules and to obtain a smooth and slightly sticky liquid of low consistency.
Pour it into the empty storage container and you're done!
Note: Use only organic coconut oil to treat your arms and legs in the best way possible. It is even better to find the extra virgin. If your oil is already in liquid form, take at least 3 tablespoons. Whether you use white sugar or brown sugar in this serum, make sure you take both oil and sugar in equal parts. Also, do not use too much lemon juice as it might dry your skin.
Recipe 2
It is a formidable blend of essential oil that works as a natural solution for skin reconstitution. It can nourish our skin to soften it and repair the fine lines to make it softer.
Ingredients :
Jojoba oil: 2 tbsp
Chamomile essential oil: 6 to 8 drops
Pomegranate seed essential oil: 1 tbsp
Rosehip essential oil: 1 tbsp
Lavender essential oil: 12 to 15 drops
Vitamin E oil: 5 drops
Carrot seed essential oil: 5 to 7 drops
A small dark-colored glass bottle
Procedure:
Pour Jojoba oil into the dark glass bottle. Add rosehip essential oil, pomegranate seed essential oil, and vitamin e oil to it. Close the lid and roll the bottle gently between your palms.
Once all is mixed inside, open the lid and add the remaining ingredients, ie lavender essential oil, chamomile essential oil and carrot essential oil one by one . Close the lid and shake the bottle to mix all the ingredients evenly. Here is!
[Note: It is a solid blend of essential oil. Therefore, remove the bottle from light and heat. In addition, prepare a new batch of serum every week to avoid spoiling. ]
The best thing about all these three natural homemade smoothing serums is that you need only a few drops to cover and heal your entire skin.
For the serum on your palm or finger, spread it over your arms and legs, and massage it into your skin by moving the pads of your fingers in a small circular motion, just make sure you have your limbs beforehand and the serum Is completely absorbed into the skin.