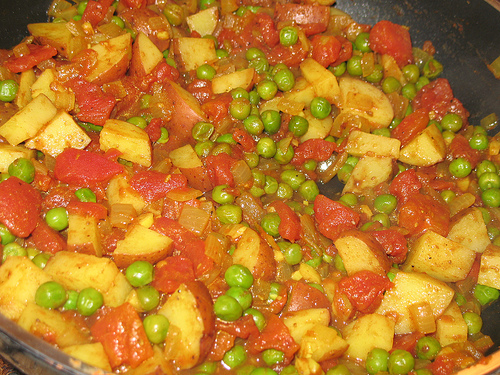 Tomato rice also known as tomato bath is one of the famous dish in South India. This sweet and spicy rice recipe is simple, quick and easy to prepare.
When preparing this delicious rice recipe, keep in mind to chop tomatoes finely. Apart from the tomatoes even the onions requires to be chopped finely and fried well in the ghee.
The tip to make tomato rice with peas all more tasty is by adding a teaspoon of tomato sauce to recipe. The sauce just adds more flavour to the tomato rice.
Take a look at how you can prepare this mouth-watering Delicious Tomato Rice With Peas Recipe.
Ingredients to prepare Delicious Tomato Rice With Peas Recipe
Rice – 2 cups
Tomato – 4 (chopped finely)
Onion – 1 (chopped finely)
 Peas – 5 tbsp (frozen peas)
Green Chilli – 1 (sliced)
Ginger & Garlic Paste – 1 tsp
Red Chilli Powder – 1 tsp
Turmeric Powder – ½ tsp
Tomato Sauce – 1 tsp
Salt To taste
Water – 2 cups
Ghee – 2 tbsp
Method to prepare Delicious Tomato Rice With Peas Recipe
Add ghee to the pressure cooker. Wait for the ghee to turn hot, and then add the sliced green chilli. Saute well.
Now add the chopped onions and saute till it turns golden brown in colour.
 Add tomatoes to the cooker, and stir well. Allow it to cook for about 5 minutes.
Now add the ginger and garlic paste, turmeric powder and the red chilli powder. Saute these ingredients.
Add the frozen peas to the cooker. Let it cook along with the other ingredients for about 4 to 5 minutes.
Now add the tomato sauce and salt according to taste.
Allow the ingredients to cook well for 6 minutes. Now add the washed rice to the cooker. Fry the rice well with the ingredients.
Add the water to the cooker and give it a final stir.
Close the pressure cooker with the lid and let it cook for 4 whistles. Switch off the flame when done and serve hot.
Nutrition Tip
Tomato is a healthy vegetable. This red juicy veggies aids in weight loss and is also a good summer veggie to prevent dehydration.
Tip
Allow the tomato rice to cook for only 4 whistles.