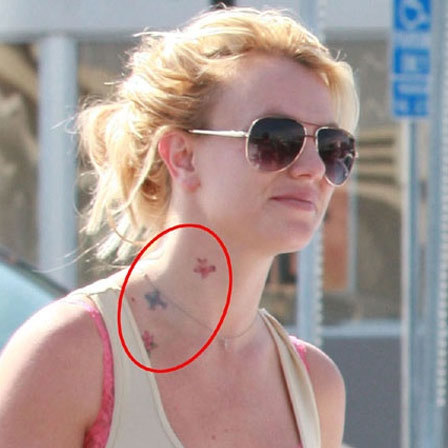 Hit me baby one more time! Or should we say, Ink me baby one more time? The pop princess that the world came to know as Britney Spears had a certain love for ink, never shying away from flaunting her newest tattoos. From intricate tattoos to petite ones on her neck, this princess wasn't scared of no needles! Read about Britney Spears Tattoo Designs For You!
1. The Princess of Pop Indeed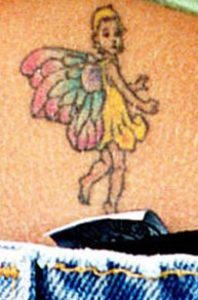 Transpose to a mystical land of magical creatures where time and tides wait on you. Where a single flick of a wand, a sprinkle of fairy dust or a rainbow brings with it good luck. For most teens, eighteen is a year of self exploration where life appears a little hazy. While most of us that age were trying to escape from the cocoon of adolescence, Miss Spears was trying to do everything but that. Her fairy tattoo was a testament to her aspirations soar in the world of music.
2. Strange Indeed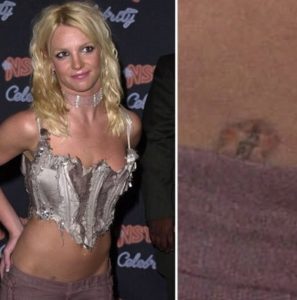 Ah, the mystics of a foreign language, with its exotic promises. Celebs succumb to the allure of faraway lands, and it's no surprise that they set the stage for us to do so too. After all, they are the ones making waves about the next best thing. Britney Spears found herself caught in the web of Chinese traditions and took the extra step to say it with a tattoo. Well, although things didn't go according to plan, she did end up with a tattoo that said Strange instead of Mysterious in Chinese! On the upside, not a lot of people can read Chinese, now can they?
3. Vines and Butterflies

With her fame spiralling towards unknown bounds, Britney Spears needed something to keep her grounded. So she took to her next tattoo to do the same for her. While the butterflies signified her fame and fortune, the vines kept her head beneath the clouds. The perfect balance set right on her foot- vines and butterflies.
4. Roll Me Another One?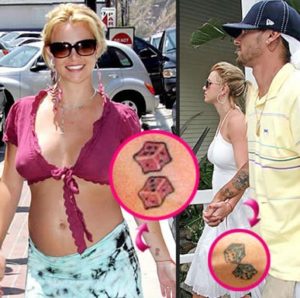 Another classic Britney Spears tattoo that did the rounds for longer than we expected was this one. Two die rolled out with four and three face up. Why, you ask? Because her then hubby, Kevin Federline had the exact same one. So, maybe they didn't work out as well as we hoped, but that didn't stop Britney from rolling another pair of die, now did it?
5. Sun Kissed Skin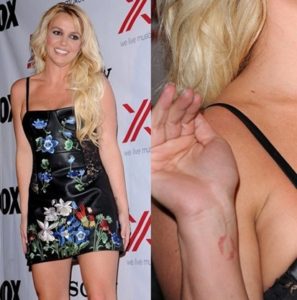 Call this creativity if you like, but we're of the notion that Britney Spears just cannot contain her sassy self. The oomph oozes out and this tattoo shows us just how stylish the pop princess is. A lipstick kiss tattoo on her wrist marks her struggle with fame. Her nervous breakdown surfaced just around the time this tattoo did and this gave fans a glimpse into the life of the pop star. Maybe flaunting her wrist tattoo was easier than blowing out kisses, who knows?
Inspired to head on down the pathway of fame, glamour and glitz? A tattoo could just be what you need. Britney Spears inspired tattoos or maybe Miss Spears' unique tattoos? Pick your poison and ink it right away.