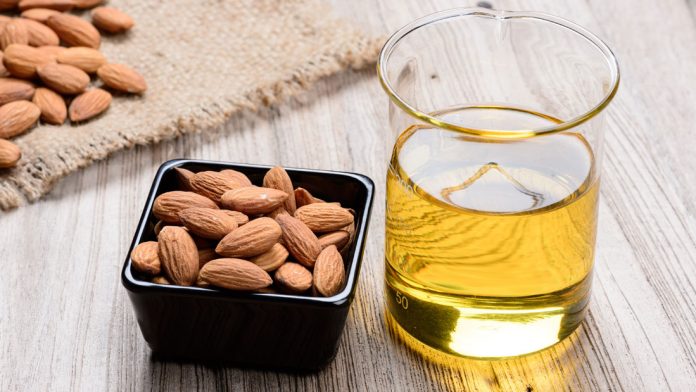 Amazing Beauty benefits of almond oil for skin and Hair
Almonds are the rich antioxidant, high in vitamin E, fat and protein, and contains many essential nutrients. The daily use of Almond oil at home can treat many ailments and solve various beauty and hair issues.
Almond oil available in two variants – sweet & bitter, sweet oil has been more famous. This variety is loaded with many skins, hair and health benefits, making it a popular ingredient in several beauty products.
Almond Oil For Skin:
Almond oil is a famous essential oil commonly used in the aromatherapy. It is suitable for most of the skin types. It is also generally used as an ingredient in many baby skin care range of products. Below are some of the amazing beauty benefits of almond oil for skin:
If you see the natural solution get rid of dark under eye circles, almond oil is most suitable. Just apply the oil before going to the bed and allow it to work while you sleep. For maximum results, follow this beauty regimen regularly for at least a couple of weeks. This treatment will help you get rid of dark circles as well as reduce dark eyelids and crow's feet.
Almond oil Delays Signs Of Ageing
Almond oil is excellent for changing and preventing signs of ageing by renewing skin cells and invigorating the skin. You can get younger, fresher and more bright skin by applying almond-oil daily.
Almond oil Makes Skin Healthier
Almond oil is the rich source of vitamin A, B and E, which are great for skin health. In fact, most skin care products are packed with these vitamins. The oil serves to maintain moisture levels of the skin and gets absorbed in a jiffy – without forming the pores. Overall, almond-oil, when used for skin care, helps to:
Improve the complexion and retain the glow
Moisturize deeper and better
Soothe skin irritation and skin inflammation
Relieve dry and irritated skin
Nourish skin, making it softer and smoother
Cure Chapped lips and body rashes.
Almond oil helps to Removes Impurities And Dead Skin Cells
The skin tends to look dull due to an accumulation of the dead skin cells. These skin cells begin due to external factors like pollution, dirt, sweat, etc. To get rid of these dead skin cells and brighten up the skin, make a pack by crushing 4 to 5 almonds, the teaspoon of milk, a few drops of lemon juice & gram flour. Combine the ingredients & apply the mixture on the face. Keep it on for at least 30 minutes before washing it off with water. Alternatively, the scrub can be made using a tablespoon of almond-oil & a teaspoon of sugar. Massage this scrub on the face in tiny circular motions to reduce the dead skin cells and blackheads.
Almond Oil is Substitute For Hand & Foot Cream
Almond oil is light and is a less greasy substitute for hand & foot creams. Due to its lightness, it is assimilated by the skin very fast. Furthermore, it leaves the sweet fragrance behind. It's high zinc content aids to get rid of the dry and cracked skin and heals the skin.
Almond oil Ideal Makeup Remover
Almond oil works as an ideal makeup remover as it is lighter than & not as creamy as the other available options. Almond-oil completely opens up the pores and assures that all traces of makeup has properly removed. Furthermore, it averts the occurrence of acne and pimples and can be used for all skin types.
Almond oil Treats Chapped Lips
For getting soft and pink lips, one can just use almond-oil. Make your natural lip balm by combining almond-oil and honey. Use this mixture on the lips whenever they feel dry and chapped.
Almond oil is Good Solution For Psoriasis And Eczema
Almond oil helps in reducing inflammation, itching and redness of the skin. Make the mixture by joining the two tablespoons of almond-oil, five drops of German Chamomile oil, five drops of the lavender oil & three drops of vitamin E oil. Apply the mixture on your skin several times a day to ease the symptoms and get rid of the cracked skin and other skin problems.
Almond oil Reduces Tan
Due to sun exposure, many parts the face & body tend to get dark and tanned. To eliminate the layer of tan, make a paste of almond-oil, honey, lime juice and milk powder. Use the paste to the affected area & leave it on for 20 minutes. Rinse it off with water. It would help get rid of the tan and also restore the lost moisture of your skin.
Almond oil reduces Wrinkles & Fine Lines
Are those fine lines & crow's-feet spoiling the look? Pamper your skin with a weekend almond-oil massage. Getting rid of the wrinkles is one of the most known benefits of almond-oil. Rubbing your skin with this oil will help in improving the blood circulation and tighten up your dull, aged skin.
Heat two teaspoons of almond-oil. Add two drops of Vitamin E oil to it. When the heat is bearable, start applying this oil on your face and massage gently with your fingertips in the circular motion. Continue this process for about 10 – 15 minutes and wipe off the face with a soft towel or tissue.
Splash water and pat dry. You are done. This facial massage repairs skin & eliminates those wrinkles and fine lines with regular use. It also moisturizes & nourishes the dry skin. Almond-oil can do wonders for your skin, hair and general health.
The above are the Amazing Beauty benefits of almond oil for skin and Hair