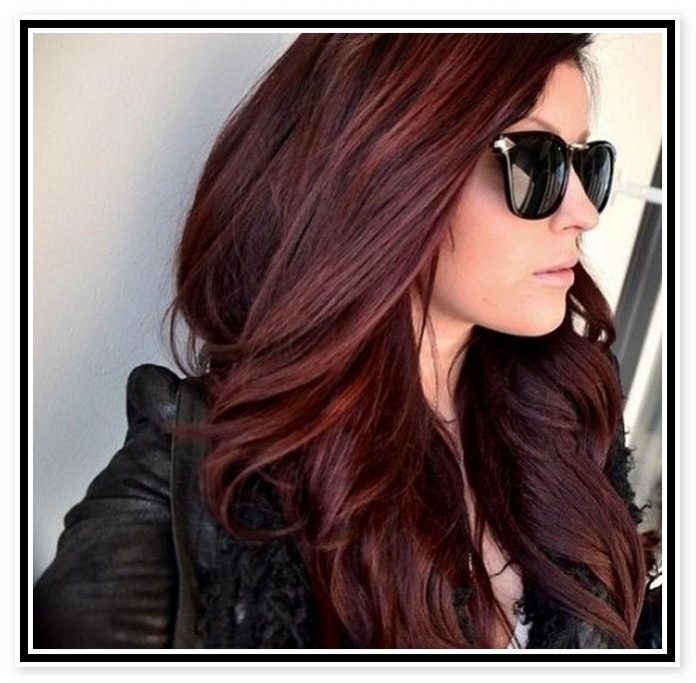 The word Mahogany in itself sounds to be luxurious, opulent, and exotic. This vibrant and rich color is described as a shade of red and brown. It is probably one of the most popular hair colors around the world. Read more about Magical Mahogany Hair Color Ideas
Here are some cool ideas to apply if you are planning to color your hair mahogany this season.
1. Cool Mahogany
It is not always necessary to opt for a warmly toned appeal when working with brown shades on your hair. You can also add some blue undertones to this cool toned mahogany hair appeal. Straighten the hair sleekly to reach the peak of gloss and shine.
2. Desert Storm Mahogany
This amazing blend of dusty brown highlights contrasting with the mahogany base helps to create a stunning look.
3. Ultraviolet Mahogany
You can try to go for violet and red undertones to create some vibrancy in the otherwise dark and subdued mahogany base color to add dimension and warmth to the whole appeal.
4. Tricolor Mahogany
It is not always necessary to stick to just one color to two. You can also add a third shade without going over the top. The tricolor mahogany required you to apply a vivid mahogany shade at the root ends with a combination of light and dark brown at the ends.
5. Mahogany Tortoiseshell
Use a blend of mahogany with caramel blonde to create the beautiful tortoise shell effect.
6. Fiery Red Mahogany
This is a super pretty look to try out. Go for some red toned mahogany applied over a dark brown base for this gorgeous fiery appeal.
7. Mahogany Brunette
This mahogany hair look is highlighted subtly with shades of brown and ginger red to create an elegant look with a youthful vibe to it.
8. Mahogany Sheen
Simply add a sheen of mahogany and violet over the naturally dark brown hair. This hair color look would burst into a symphony of rich colors in sunlight.
9. Mahogany Decoction
This mahogany-based style is highlighted with popping shades of orange and red to create this quirky look.
10. Mahogany Subtlety
This is a subtle hair color look wherein the mahogany blends beautifully into the dark brown base color thus creating a very natural effect.
11. Copse of Mahogany
This hair color style creates the most stunning appeal by recreating rich dark brown shades found deep in the heart of a forest.
12. Mahogany Waterfall
Look like a mystical being and live your dream with this single-toned look. It creates the effect similar to a red-brown waterfall moving down your back.
13. Choco-mahogany Swirl
Use a shade of dark chocolate as a base and highlight with subtle mahogany streaks to create an understated and sophisticated appeal.
14. Rose Gold Mahogany
Mahogany with rose gold involves highlighting mahogany based color with gold streaks at the bottom to create an amazing combination of wood and metallic shades.
15. Peaches and Mahogany
This understated shade of orange goes well with any skin tone. The ombre look done with mahogany on top and peach on the bottom is an astounding blend of colors.
16. Dusty Rose Mahogany
This is a gorgeous hair color look wherein the beautiful mahogany is highlighted with a dusty brown shade. Style your hair in textured waves for a soft and romantic hair look.
17. Mahogany Sunset
The gorgeous mahogany shade combined with a dusty pink in the middle to imitate the descent of the sun into darkness at dusk.
18. Grapevine Mahogany
This hair color look is a stunning mélange of purple and mahogany. It feels as good as kicking back and relaxing with a glass of red wine. Another favorite end-of-the-day activity!
19. Mahogany on Fire
Mahogany on Fire is a coloring technique wherein the deep shade of mahogany is taken as the base and bright streaks of copper accent it thus creating a fiery effect.
20. Mahogany Dream
Retain the natural dark brown color at the roots and go for a subtle mahogany ombre towards the ends to create a completely dreamy hair appeal.