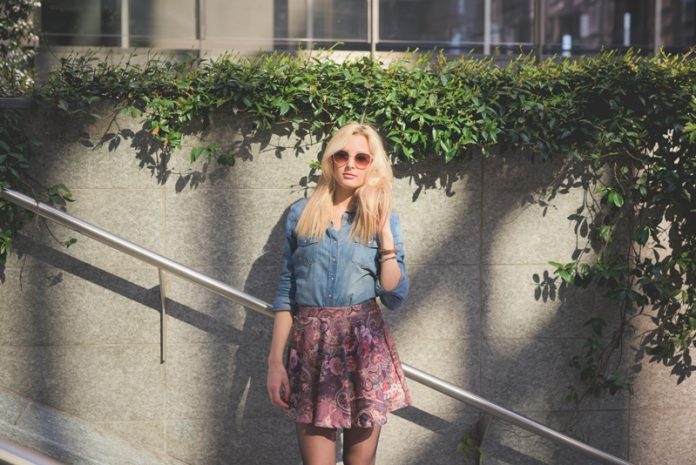 The fashion wear which happens to be quite popular is the pleated skirt. Whether for casual wear or for professional purposes, the pleated skirt is very popular. They are indeed "cool" outfits and make one look gorgeous.
1. Knife Pleat:
A knife pleat midi skirt can easily look really dressed up. Go in for a casual trying out a plain tee, a statement necklace, heels, and an of course fun bag.
2. Midi skirt:
One can wear the midi skirt with a tucked in sweater and a thin belt to keep the look from being very bulky.
3. Pleated Maxi skirt:
Pleated maxi skirts are so pretty, but it can be a much bigger look. One must keep it simple as well as casual with a loose tank and flat sandals.
4. Midi or mini length skirt:
This gives a mature and professional look with a fitted blazer and a pair of heels.
5. Tights skirt:
Rather than keeping the legs bare one can wear tights.
6. Turtleneck and cardigan skirt:
This looks great with a turtleneck and a cardigan. One needs to tuck the shirt in and pick a cardigan that is slim as well as on the shorter side.
7. Chambray shirt and utility jacket:
A short black pleated skirt looks attractive with a chambray shirt, a utility jacket, and simple flats.
8. A white pleated midi skirt:
One looks mature in it. This one must try no doubt.
9. Patterned Pleated Skirt:
Do not be afraid to wear a bright, patterned pleated skirt. One can go in for simple accessories and a solid colored shirt as well as shoes.
10. Pleated skirt cum leather jacket:
One can wear it with a leather jacket.
11. Pleated skirt and mid-calf boots:
It can be worn with a neutral sweater and mid-calf boots.
12. Laced up heels and pleated skirt:
Combine two trends in one and wear one's pleated skirt with a pair of lace-up heels for something ultra-feminine as well as pretty. This gives one a bold color look.
13. Pleated skirt with a denim jacket:
A casual look that works for anything is a midi skirt with a denim jacket, a striped shirt, and kitten heels.
16. Keep one's pleated maxi skirt boho with a simple tank top, a floppy hat, and flat sandals. This look is comfy and perfect for a warm day.
14. Pleated skirt with striped shirt:
One can go in for a striped shirt and ballet flats to be worn with a pleated skirt.
One can look good in a pleated skirt and look stylish as well. There is much to choose from and one can select a pleated skirt that will make them make them stand out in the crowd. You may like Men can try out some Best Jeans Styles
For a formal look or casual look, one can definitely wear much sought after pleated skirt with several kinds of accessories to look their best. Wow! Sounds great indeed! Why not try them out? Looking good and stylish does matter in one's personal as well as professional life. Pleated skirts are very popular.