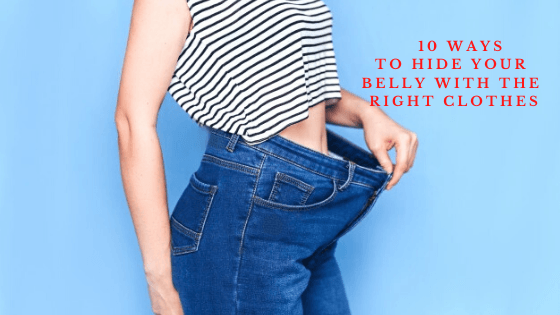 Excessive weight can be embarrassing and that too if one is not wearing clothes that help hide the fact. The clothing store does cater to the needs of fat people.
Putting on excessive weight means that one has an apple body shape and the waist gets lost in fat. Naturally, a fat or protruding tummy is not liked and there are ways to hide it. It is better to visit a clothing store that supplies clothes for over-sized people.
Women after 40 do gain weight and have fat bellies often. Naturally, they will look for tops that can hide their fat belly. Such women are keen on hiding a huge belly.
Women do tend to put on weight once they enter into perimenopause or menopause stage. It necessitates a wardrobe change. Yet, they want to look stylish.
Overweight is a health issue and does lead to medical problems as well as aesthetic issues.
1. Avoid wearing clingy or tight clothes over the belly:
It is better to select tops with drape and a cross over top will also add to the comfort.
2. Wear skinnies or leggings with longer, asymmetrical and draped tops:
Stretch pants or skinnies that tend to tuck in the tummy. One can go in for an ensemble that has a long top and tunics and this will ensure that the tummy does not show. Over-weight women have to be careful about the choice of clothes.
3. Create vertical lines with long jackets, ponchos, and cardigans:
Layering is advisable to hide the tummy. Layers also keep a person warm. In summer one need to go in for lighter fabrics. Instead of a cardigan or a long sweater, a vest can be preferred. It prevents sun tanning.
4.Wear tops over your pants or skirts and avoid tucking them:
Tucking draws much attention to the belly and bulk waistline and therefore it is better to avoid it.
5. Choose tops with prints:
Prints hide bulky bellies and it is good to have few of them in the closet or rather a wardrobe. A popular clothing store can supply such printed tops.
6. Do not emphasize the tummy by adding accessories such as belts:
No need to draw attention to the midlife tummy and in case one uses belts, they will draw much attention to the fat belly.
8. Don't wear garments that are bulky around the tummy area
It is better to avoid having pockets as it makes that part of the body, that is the belly even fatter. Even using embellishments does so. It is an obvious choice of appropriate clothes that are essential for those who have too much weighed on their belly.
9. Wear shapewear
Shapewear can indeed flatten or hide the belly. It is better to go in for such wear to hide the belly fat.
10. Lingerie and Undergarments—Getting It Right
Choosing undergarments is important as these also matter when it comes to fat on one's body. It is important to choose a bra that is not loose or sagging but makes one look uptight. One can go in for high-rise underwear, in other well-fitting underwear must be preferred.
Conclusion:
It is but obvious that one feels self-conscious in case one has ft belly. A bulging belly is an ugly sight particularly for those who have lost their figure perhaps after pregnancy or after the age of 40. Every woman wants to look slim and trim. A smart appearance does wonders in the work arena as well as in one's personal life. One's self-esteem goes up if one feels smart. Accept, dress smart, workout and indeed have fun.
Bulky women and men need to choose clothes carefully so that they do not look fatter than they already are.
Also, read; Can I lose belly fat with yoga?