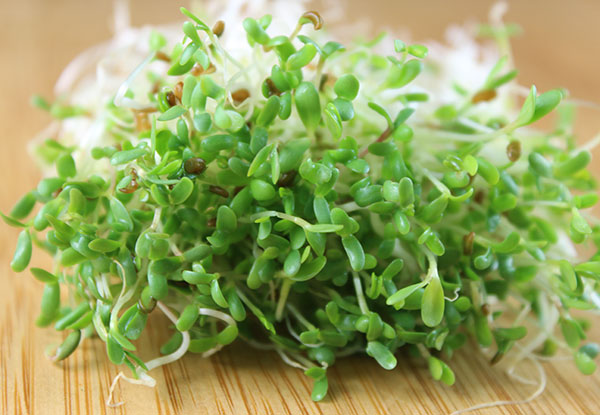 The below infographic image will give you the Unbelievable Health Benefits Of Alfalfa Sprouts. And this is very helpful to keep our health in right way.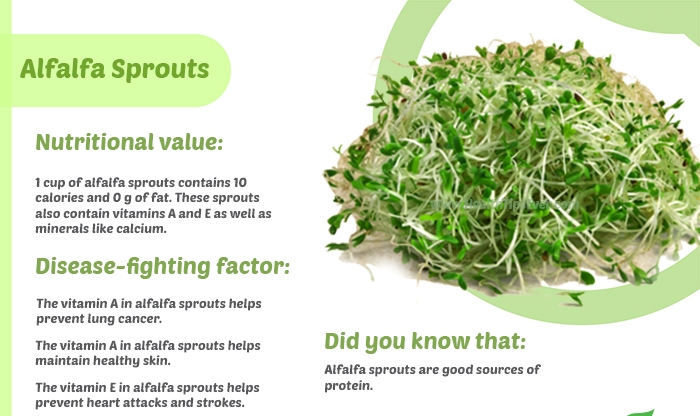 Image Source: www.healthtipsever.com
Benefits Of Alfalfa Sprouts:
Alfalfa sprouts generate from a germinated alfalfa seed and are a great, nutritious addition to many meals. When the seed germinates, it creates a shoot, which is then harvested before the plant grows fully. And it is Commonly found in Oriental dishes, it is usually added to soups, on top of sandwiches and with salads.
Vitamin K:
Vitamin K helps for blood clotting when you injure yourself or have surgery. Your intestines make some vitamin K, but the rest of what you need should come from other nutritious foods. A vitamin K deficiency can cause an over bleeding. The day requirement of vitamin K is 90 micrograms for women and 120 micrograms for men. One cup of this sprouts contains 10.1 micrograms of vitamin K.
Additional Nutrients:
These are very low in calories but provide a number of vitamins and minerals, which makes them a perfect supplemental item to add to your favorite meals in daily life.
23 calories
2.1 grams carbohydrates
3.99 grams protein
0.69-gram fat
1.9 grams fiber
30.5 micrograms vitamin K (38% DV)
8.2 milligrams vitamin C (14% DV)
36 micrograms folate (9% DV)
0.2-milligram manganese (9% DV)
0.2-milligram copper(8% DV)
70 milligrams phosphorus (7% DV)
27 milligrams magnesium (7% DV)
0.1-milligram riboflavin(7% DV)
0.9-milligram zinc (6% DV)
1-milligram iron (5% DV)
0.1-milligram thiamine (5% DV)
155 IU vitamin A (3% DV)