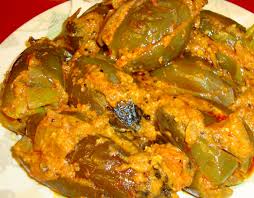 Stuffed brinjal curry recipe is a popular stuffed eggplant curry from the Andhra Pradesh and is commonly cooked in Andhra home. It the same as 'enne badanekai', a north Karnataka recipe. However, there are some minor changes like sesame seeds are used in north Karnataka which we do not use because it does not add any special taste to this stuffed brinjal curry. if you wish you can check by using 1 tsp white sesame seeds to the same recipe. Here we use lemon juice instead of tamarind paste or juice, as lemon juice prevents skin itch that is caused by eating eggplants.
Ingredients to make Stuffed Brinjal Cury
Measuring cup used 1 cup = 240 ml
brinjals or vankayalu : 4 to 6
ginger garlic paste: 1 tsp
onions: ¾ cup of finely chopped
green chili: 2 slit
lemon juice or tamarind paste: 2 to 3 tbsp
coriander: a fistful of chopped
curry leaves: a sprig
mustard: ¼ tsp
cumin: ¼ tsp
oil : 3 tbsp
To make paste
Peanuts : 3 ½ tbsp
coconut dry or fresh coconut: ¾ tbsp
coriander seeds: 1 tbsp
cumin: ½ tsp
cinnamon: 1 small stick (optional)
cloves : 2 (optional)
green cardamom : 2 (optional)
red chilies: 4 or red chili powder: 1 tsp
Instructions to make Stuffed Brinjal Cury
Roast and paste all the ingredients mentioned under to make paste coloumn. Each ingredient to be roasted separately or add salt and lemon juice and mix well.
Wash and cut brinjals with one end of the brinjal andthe stalk leaving intact
keep them immersed in salted water till you use
Heat oil in a pan, add mustard, cumin and curry leaves,
Once they begin to splutter, add onions and green chilies, fry till they turn golden
Add ginger garlic paste and fry just for a min
Stuff the brinjals and add them to the pan and fry just for 2 to 3 minutes. Make sure the brinjals are coated with enough oil. do not burn
Pour water just enough to cook brinjals. Adjust salt.
Once they are fully cooked and tender, add the finely chopped coriander leaves. cover and off the heat.
Notes
Using some variety of red chilies lends a slightly bitter taste to the gravy. so if you do not have byadgi chilies, use the regular chili powder.