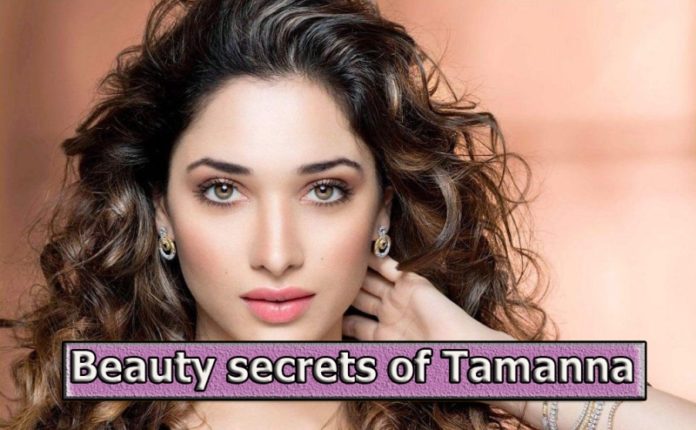 Tamanna is known for her beauty and her appealing figure. She takes good care of them by exercising and following a strict daily regimen.
Actors are beauty conscious and have to ensure that they look good in the public eye. They go to any extent in order to maintain their looks. Tamanna also believes in it but in a different way. In her film Chand Sa Roshan Chera, she has a bright moon-like face. Tamanna, beauty secrets are manifold.
How does Tamanna work on her look?
The Ayan girl does refrains herself from dangerous chemical cosmetics. Her glowing milky skin does attract the audience at the first looks. Audience and co-stars do wonder how she could rather maintain her ever glowing milky shining face besides exposing to extreme weather and make-ups as a part of her work. She does take care of her complexion and ensures a very flat tummy and slim figure. Everybody admires her and her often envious about her looks.
Tamanna, beauty secrets are such that they do add to her overall looks. She is indeed a success on account of them
Surprisingly Tamanna indeed claims that she never takes care of her skin. Her mother does not believe in the use of fairness creams and other costly cosmetics. Commenting about it she candidly says, "I never use fairness creams".
She has attained her skin genetically, yet she does take care of her beautiful face, hair, and structure in order to maintain her glamour. This good looking girl follows a strict regimen to her routine in order to maintain her glamour which she revealed now.

Some of the beauty secrets Tamanna revealed are here:-
• She always, in fact, prefers a Vegetarian diet.
• She is a big fan of yogurt and she always adds yogurt to her meals to keep her body cool.
• Tamanna likes fried food but she completely avoids fried and processed foods in order to maintain her figure.
• She drinks a lot of water, soups and fruit juices and she says that is why her skin looks always hydrated.
• She starts her day by eating a hand full of soaked almonds and drinking lukewarm water mixed with a little honey.
• She does avoid sugar and sugar products.
• If there is no shooting, she completely avoids makeup.
• She always likes to stay simple without using harmful make-up or hair-dos.
• Her favorite brand lipstick is Estee-Lauder.
• She spends time at the gym every day and never skips her Ab crunches, cardio, weights and freehand exercises with the support of her expert trainer. She rather spends at least one hour a day in the gym.
• Tamanna strictly adheres to her Yoga exercises daily to maintain her health and beauty.
• Tamanna uses besan, neem, and turmeric in her homemade face packs.
• Tamanna says she never uses shampoos to wash her hair. She prepares herbal powders at home to clean her scalp as well as hair. She uses Shikakai, Papaya, and Amla to make her herbal hair wash. She said she does wash her hair daily as the hair is greatly exposed to bad weather during shootings.
• At the end of the day, she is always careful in removing her makeup completely before going to bed.
• She does use herbal scrubs to exfoliate her skin regularly.
• Tamanna says, she never forgets to smile and that is why she always looks appealing. Tamanna, beauty secrets cannot be overlooked while appreciating her beauty.
Tamanna does make a lot of effort to ensure that she has a fresh look and smiling face as it is important for her public image. She maintains a healthy outlook and regular exercise does wonder to her figure.
Also, read Beauty secrets of Deepika Padukone.