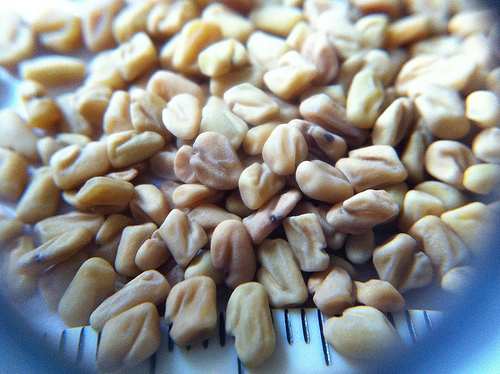 Home Remedies for healthy hair growth using fenugreek seeds
Fenugreeks are rich sorce of proteins, nicotinic acids and large amounts of lecithinare extremely effectual in strengthening hair from the roots and treating follicular problems. The seeds contain the hormone antecedent that enhances the hair growth and help in rebuilding hair follicles.The natural tonic helps in moisturizing hair and bringing back lustre and bounce. Fenugreek seeds have been used since time immemorial for curing the hair problems, so you can go ahead and use them without any second thought. so here I have explained you about some Home Remedies for healthy hair growth using fenugreek seeds.
Soak fenugreek seeds in the water for about 24 hours,sprain and use water to wash hair.Do not wash hair immediately. Let this water be there for at least three hours in the hair, after that rinse your hair with the lukewarm water never use hot water on your hair.Repeat this daily for about a month to see your hair gaining the strength and volume.
For the fenugreek hair mask:
Mix fenugreek seeds powder with coconut milk well,
apply to your scalp or roots of hair and hair,
leave for ½ an hour.
Now rinse off with the mild shampoo and water.
For Hair loss:
Take two tablespoons of fenugreek seeds in the mixer and grind them as powder.
Now take powder into a bowl and add one table spoon of coconut oil or olive oil to it.
Mix both ingredients well and apply this paste on hair loss and hair damaged area.
Let it dry for 10 minutes. Then wash it off with the mild shampoo.
For dandruff
Soak the fenugreek seeds over night.
Take the fenugreek seeds in the mixer and make it as fine paste.
Now take fenugreek paste into a bowl.
Add one tablespoon of lemon juice to paste. Mix both of them well
Apply this mix all over the hair scalp. This is old grandma tip for dandruff removing.
For voluminous, glossy and nutritious hair:
Make the paste of finely powdered fenugreek seed and coconut milk.
Apply the mixture on your scalp .
Let it be for ½ an hour. Rinse the hair with some mild shampoo and condition it.
Homemade Facial Scru:
Take soaked fenugreek seeds into the mixer and add yogurt in that.
Take 2 ingredients in 2:1 quantities. Grind them like rough paste.
If it becomes smooth add methi powder to it to make rough.
Apply this mixture on face. This exfoliates dead skin cells from the face.
Methi seed for pimple remedy:
Soak the methi seeds or fenugreek seeds over night and grind fenugreek seeds in the next day morning.
Grind them up to it becomes smooth creamy paste.
Apply the paste on the pimples with finger tip.
Dried it for 10 to 12 minutes then rinse the face with thecool water. Repeat this process for every three days up to 45 days makes your face free from pimples.
Skin tone Cleansing:
Take two tablespoons of fenugreek seeds
Boil them in three glasses of water for about 10 minutes
Extract the boiled water with the help of strainer.
Apply this water for face cleaning. This water cleanse the face and gives the glow to face.
Photo credit: John and Anni / Foter / CC BY-NC-SA