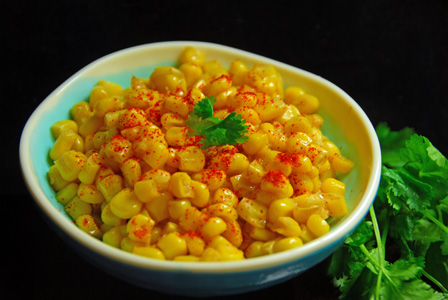 Steaming Healthy hot n spicy corn chat  is very healthy & tasty option that can be made in a moment. It requires very less ingredients and it makes a nutritious snack for kids. The yummy aroma of melted butter with the cooked sweet corn and spices, makes it a favourite recipe of all. Read about
I'm very happy making this refreshing & filling corn chat frequently.
Healthy Hot n Spicy Corn Chat
Ingredients to prepare healthy hot n spicy corn chat
Butter : 1 tsp
Black pepper : ½ tsp corn and spices
Chaat masala : ½ tsp
Lime juice : 1 tsp
Fresh corn kennels : 2 cups
Salt to taste
Fresh coriander leaves chopped
Method to prepare healthy hot n spicy corn chat
Steam or pressure cook the corn kennels
In a pan, melt the butter.
Add the cooked corn.
Add all the other ingredients.
Stir for the minute & remove from the heat.
Mizzle lemon juice and toss it well.
Sprinkle freshly chopped coriander leaves.
Transfer the mixture into the serving bowls.
Now healthy hot n spicy corn chat is ready to Serve hot. Enjoy its yummy taste. Perfect healthy snack ready to relish.
Photo credit: whologwhy / Foter / CC BY