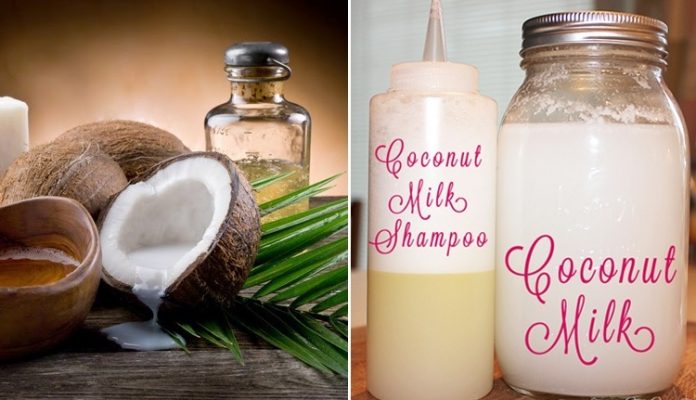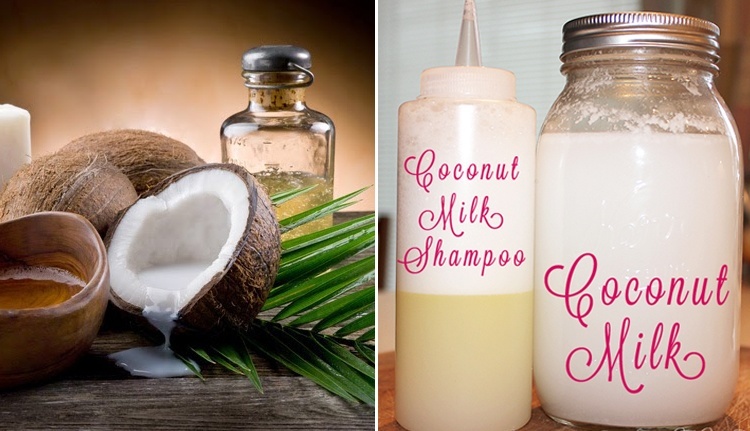 If you like your hair so much that you do not need to use ready-made shampoos comprising harmful chemicals or components containing detergents or alcohol , this DIY homemade coconut Milk shampoo is the greatest thing for your hair. No matter what displays of those shampoos state or how beautiful hair of models starring in advertisements looks, it cannot take place of benefits components in coconut gives to hair. If you have hair which is not naturally oily, this approach is fit for you. Read about DIY Homemade Coconut Milk Shampoo For Shinny Hair
This recipe does not make hair frizzy, tangled, or oily, therefore it works the suitable for any type of hair. It also acts on kids' hair, though it is not tear-free, therefore you need to watch the eyes.
Recipe For DIY Homemade Coconut Milk Shampoo For Your Lovely Hair:
Ingredients Required:
Coconut milk (homemade or canned): 1/4 cup
Hot Water: 1 Cup
Liquid Castile Soap: 1/4 cup
Essential oils (Lavender or Jasmine): 20-30 drops
Vitamin E oil, olive or almond oil: 1 teaspoon
These components can be altered in proportions according to your choices as long as proportions of coconut oil & liquid castile soap rest the same. If you are reluctant to apply canned coconut milk, here is the method for DIY homemade coconut milk shampoo to make it from shredded coconut.
Procedure to Prepare coconut milk:
Put grated coconut in the blender with one cup of hot water.
Grind it fifteen to twenty times, but not continuously.
Put ground mix into cloth to extract milk by pushing down the mix to get liquid milk out.
Put back remaining mix into the blender with hot water & repeat the procedure 3 to 4 times.
At last, you will get 3 to 4 cups of coconut milk.
Procedure To Prepare Shampoo:
Combine given proportions of liquid castile soap, coconut milk, and vitamin E oil or olive oil to the bottle or jar of your option.
Shake the bottle to join the components fully.
Then, combine 20 to 30 drops of essential oils.
You can use two distinct oils and join them to combine.
Mix it well & use one or two teaspoons according to the hair length & thickness.
You can store it for the month in your shower. This blend smells good & liquid castile soap serves as a hair cleanser & coconut milk & other oils locks moisture in hair. This shampoo provides a glorious, shiny look to the hair as well as pleasant fragrance. Utilizing coconut in shampoo will further help to keep hair healthy. Apply this non-toxic product for your hair to grow your hair healthy. Pour it in excellent tiny milk bottles, it looks excellent in those.
Also read : Uses of Coconut Milk for hair