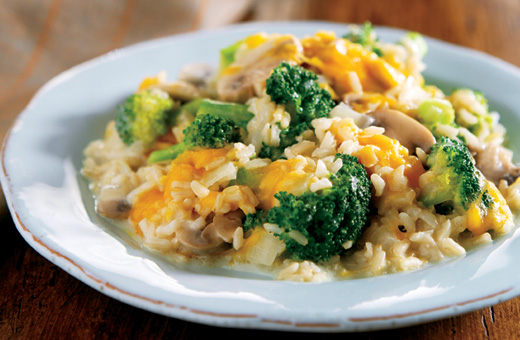 We love to have delicious but also healthy food in the diet, so whenever you want to have something special and healthy, it's better to have a recipe made of "Broccoli". Broccoli initially originated in Italy, it was developed using cabbage and has existed since about 6thcentury. Broccoli and Rice Casserole
Health Benefits of Broccoli:
Soluble fiber present in Broccoli helps you lower cholesterol in blood. Bindings present Broccoli makes the cholesterol excrete easily and consequently reduce cholesterol level in the body.
Phytochemicals present composes a terrific trio in broccoli. They aid all steps in the body's detoxification process.
Carrot is good for the eyes; similarly broccoli is also a great way to protect your eyes. Broccoli has an antioxidant called zeaxanthin, which is similarly beneficial.
Broccoli is probably so popular because of its ability to help prevent cancer. As Broccoli is a cruciferous vegetable, it is protective against some stomach and intestinal cancers.
Along with cholesterol lowering ability broccoli can also aid heart health by helping to keep blood vessels strong.
Now let's see how to prepare a mouthwatering, delicious and fit "Broccoli and Rice Casserole".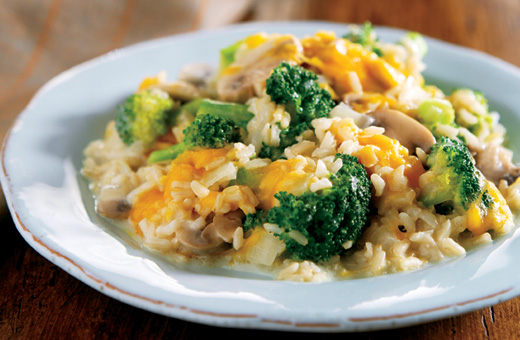 Requisite Ingredients:
1 cup of short grain brown rice
1 large onion , finely chopped
3 teaspoons of extra virgin olive oil
1 can cream of mushroom soup
Divided ground pepper to taste
Half teaspoon salt
2 cups of small broccoli florets
Any other vegetable if required
Broccoli and Rice Casserole
Take a large skillet, heat it up for 5 minutes and put in 1 ½ teaspoon of oil with the medium flame. Add the chopped onion and stir it often until it softens, about 5 minutes. Add broccoli and cook for 3 to 4 minutes. Add rice and stir in soup along with this add around ¼ teaspoon salt and pepper to taste.
In another side heat 1 ½ teaspoon of oil in a medium saucepan on medium-high heat. Now add rice and cook for 1 to 2 minutes until translucent and toasted. Add 1 ½ cups of water and ¼ teaspoon of salt and bring to boil. Brown rice can also be prepared using rice cooker and then follow the remaining steps. Cover the saucepan and bring to boil with medium- lower the flame until water gets absorbed and the rice becomes almost tender. After 35 minutes, remove from the heat and keep for 5 minutes with its lid closed, then uncover.
Now transfer the rice mixture to the prepared baking dish, bake until bubbly and golden brown for about 30 minutes. "Broccoli and Rice Casserole" is now ready to eat.
In order to make the dish still tastier and healthy you can add some slivered almonds before you bake for 30 minutes and after that you can add roasted brown bread crumbs. You can also add cheese or butter to make the recipe "Broccoli, Rice and Cheese Casserole", after completing the steps to prepare this dish sprinkle evenly with ½ cup of cheese.
People who are non-vegetarians can add ¼ cup of boiled chicken while stirring the mixture in baking dish and bake it for 40 minutes to make it "Broccoli, Chicken rice Casserole".