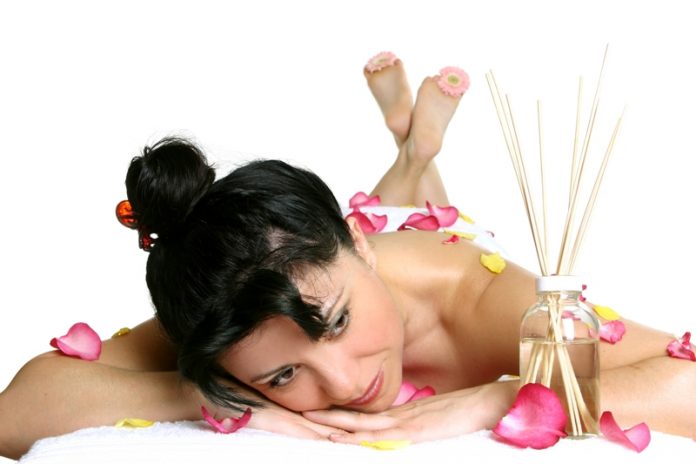 Frizzy and dry cab cause much discomfort and irritation. As it is, one leads a busy life and to take time out to look after one's hair is indeed time-consuming. Nevertheless, one has to do so. It becomes essential to pamper one's hair with nourishing hair spas and treatments at regular intervals of time. It is better to get one's hair done in a well-established salon or spa.
1. Lakme Salon:
Lakme salon does indeed offer a special package for dry as well as damaged hair. The procedure is as follows:
• Mask one's dry hair with instant repair shampoo.
• Rinse as well as repeat the procedure.
• Refresh one's hair.
Lakmé Salon has a network consisting of over 200 salons which are spread across 40 cities in India.
2. Serenity Service at Lakmé Salon:
It does help one to get rid of that frizzy and also tangled hair. This treatment can indeed add smoothness to one's hair without making use of formaldehyde. This permits smooth, soft and silky straight hair thus having a natural solution. This treatment is no doubt formaldehyde-free and is also completely safe. It does contain natural products such as cysteine complex. It does restore the lost proteins from one's hair. This blow-dried look can indeed last up to 3 months. This treatment can indeed calm the frizz and also add natural shine and softness to one's hair.
The network of Lakmé Salon includes over 200 salons spread across 40 cities in India.
3. Big Boss Beauty Parlor:
This is good salon treatment for dry hair and offers:
• Hair fall treatment
• Dandruff treatment
• Oil massaging
• Grey hair treatment
• Dry hair repair
• Hair spa treatment
• Deep conditioning treatment
Address:
Big Boss Beauty Parlor.
Building No 3, Sundaram,
Shimpoli Road, Borivali (West).
Mumbai- 400092.
Tel: +91-22-28991382 / 28996740
Mobile: 9820490436 / 9322228262
Email: info@harishbigboss.com
4. VANADDICT Hair Studio:
The VANADDICT Hair Studio does provide expert consultations, services as well as treatments based upon one's requirements. They use products from Walla and L'Oreal for hair care. The treatments offered are as follows:
• Anti-hair fall treatment
• Anti-hair breakage
• Anti-dandruff treatment
• Dry/ damaged hair treatment
• Anti-frizz treatment
• Hydro/ nutri-shine lock treatment
Address:
128/129, F-Wing, 1st Floor, Kamlesh Apartments,
Sher-E-Punjab Colony, Near HDFC Bank, at Tolani Naka,
Andheri (E), Mumbai-400093
Appointments: +91-96192 99958, +91-22-4015 8325 / 9325
Reach us at care@vanaddict.com
5. b: blunt:
This is a very popular salon in Mumbai and attracts many Bollywood film stars as well as celebrities. It is owned by Adhuna Akhtar who happens to be a well-known expert in hair treatments. The salon does indeed offer several Kérastase hair treatments for healthy, shiny as well as smooth hair.
Address:
b: blunt – South Mumbai
Kohinoor Building, 29 Hughes Road, Mumbai
022-65980301 (Peddar Road, South Mumbai)
b: blunt – Bandra
Ground Floor Shanti Niwas Bldg,14 Road Lane, Opp Costa Coffee, Khar (w)
022-65343571
b: Blunt – Juhu
1st Flr Sundeep Building, Plot No.52, Road No. 10, JVPD Scheme, Juhu
022-26285082
6. Jean Claude Biguine:
Jean Claude Biguine is owned by the French stylists who are trained in Paris. They use all Kerastase products for special dry hair treatments.
Contact: 022-65222211 (Bandra, West, near Leelavati Hospital)
7. Juice:
This salon did start in the year 1998. It is indeed very popular for its services, particularly for hair styling as well as snazzy haircuts. They do offer several hair treatments in order to treat dry hair.
Contact: 022-23805087 (Kemps Corner),
022-26045624 (Khar)
8. Toni and Guy:
The popular Toni and Guy salon began in 2008 in Mumbai and has trendy interiors, offering fabulous haircuts as well as treatments.
Address:
Toni and Guy – Bandra
207/208, Allied Bungalow,
Pali Naka, Near Golds Gym,
St Johns Road, Bandra West, Mumbai – 400050
Contact: 022-26400164, 26400169
Toni and Guy – South Mumbai
Shop No. 1, Saideep Building, near Taj Residency, Cuffe Parade, Mumbai
Contact: 022-22154464
One can visit these salons for proper hair treatment.