Tattoos are quite popular nowadays. They are images or simply too complicated sketches that are inked on one's body. Most of the tattoos are simple, beautiful and quite appealing and convey a message. People from today's generation prefer the tattoos that are pretty to look at but those from the olden times, always used to have a meaning to them. Celebrities have often been in the news for their amazing tattoos. One such celebrity is Avril Lavigne, who happens to be a French and Canadian pop singer and songwriter. She has a number of tattoos, which she uses to express her feelings. Also read Best Avril Lavigne's Tattoos For You!
The singer cum writer has always known to have had deep fantasies when it comes to tattoos and hence she has a number of tattoos on her body. Let us now have a look at some of her best tattoos.
The Star Tattoo on the Wrist: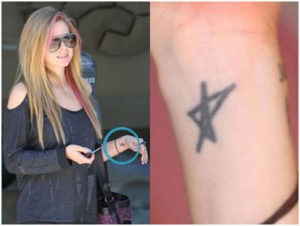 This was the tattoo that is quite loved by the singer and she believes that it gives her a smart look. The tattoo is kept simple with just one small star which is not only pretty but is also cute. It is said that the shining star is a symbol of good luck.
The Tattoo of Musical Star: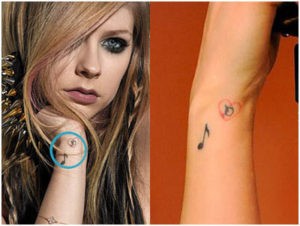 The singer has a musical star tattoo on her left hand. The tattoo has an initial which is rounded by a heart. It is said that this tattoo is related to her ex-husband with whom she is friends till today.
The 30th Bolt Tattoo: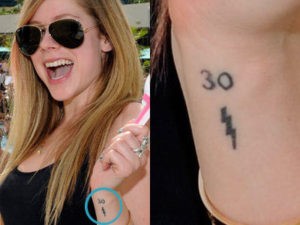 There are a number of people who often use dates and other details as tattoos and Avril is no different. She has a tattoo that has the number 30 written, with a lightning bolt under it. It is said that she got this tattoo done along with her ex-husband on his 30th birthday. She also has another tattoo of 25 written in roman which she got done on her own 25th birthday. She got this tattoo done in the year 2008 along with her then boyfriend who also has a similar tattoo.
The Nickname Tattoo: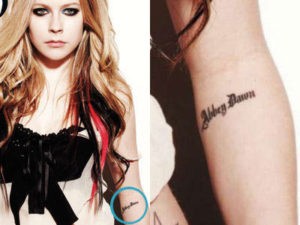 The singer also has a tattoo on her left elbow which is her nickname. As per Avril, the nickname "Abbey Dawn" was given to her by her father when she was a child. This is the name that is given to her own line of clothing.
Safety Pin tattoo: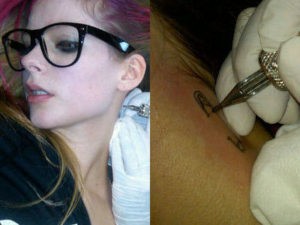 Another interesting tattoo one can find on the neck on Avril is the tattoo of a safety pin. She has this tattoo on the left portion of the neck. It is said that there is the importance of the pin tattoo and as per the singer, a pin might hurt a person, but it also secures them at the same time.
Apart from the above mentioned, the star is also known to have many other tattoos that have been an inspiration to many women from around the world. If you wish to try out a new style for your tattoo, then these are a must check. But, do remember to carry them off in style.