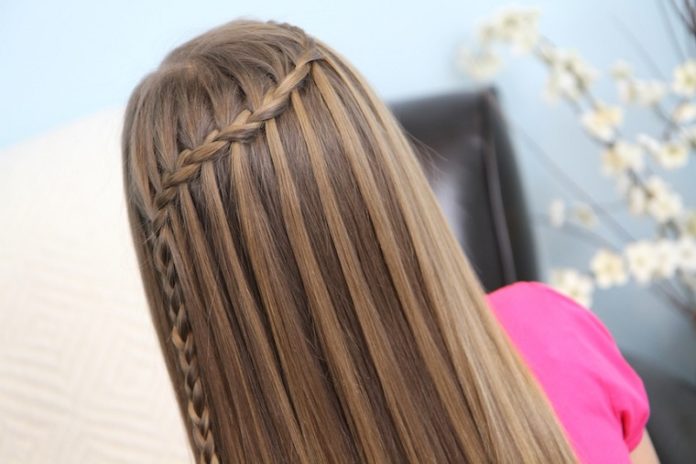 The waterfall braid is something both women and girls like to try out for special occasions as well as for a casual look. Obviously, a new hairstyle for girls draws much attention.
'Complex' hairstyles happen to be a mix of a lot of easy strategies that are assembled into one. It is indeed a pleasure to look great and for this an appropriate hairstyle is important. And that being said – if you intend to be efficient doing hair – it is important to discover all those standard braid techniques in order to be able to develop more difficult hairstyles. New hairstyles for girls are often tried out for different occasions. Girls love partying and naturally, an attractive hairstyle does matter.
A new hairstyle for girls draws much attention and girls do try out such hairstyles. Trying out new hairstyles does add to the glamorous look. A change in appearance does matter and waterfall braid is what this change of appearance is all about.
Some hairstyles can be rather confusing, and the technique of setting them can be rather difficult, but the end result is superb. Women love trying out new hairstyles as they like being admired for their looks. No doubt one can go in for simple hairstyles for a casual look. But on special occasions, one would like to try out something fantastic. A waterfall braid is something that can be tried out as it does make a woman look attractive.
The waterfall braid is fun and a unique hairstyle. It does create a beautiful headband. Women and girls can dress this style up and make it look super fancy, or it can be very casual also.
Waterfall Braid is just another synonym for a versatile hairstyle. Be it blonde or brunette, long, medium or even bob, straight, wavy or curly, this hairstyle is worth trying out. It can be worn for a casual party or even perhaps for a formal meeting. There are in fact several variants of Waterfall Braids to suit all the occasions such as ponytail waterfall braid waterfall French braid etc.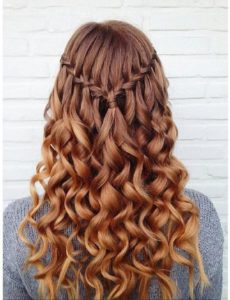 waterfall braid
STEP 1:
Take a huge area of hair at the front and also separate into three hairs.
STEP 2:
Take the back hair and also cross it over the center.
STEP 3:
Now take the front hair and cross it over the middle.
STEP 4:
Next off, take the back strand + include a little section of hair into it.
STEP 5:
Cross this back strand + new area of hair over the middle.
STEP 6:
Leave the front hair as is (you can even clip it away so that you don't get perplexed).
STEP 7:
Take a section of hair BEHIND the front strand.
STEP 8:
Cross this new area over the middle.
STEP 9:
Duplicating the very same actions – take the back strand + include a brand-new area of hair into it.
STEP 10:
Cross that back area + new area of hair over the center.
STEP 11:
Once more, leave the front strand as is and also take a section behind it to go across over the center.
LAST STEP:
Repeat all the same actions completely to the rear of your head and secure it with a clear elastic.
Hairstyles do matter no doubt. A woman or for that matter even a teenager would like to look good and an attractive hairstyle does matter. This cascading waterfall braid can indeed sweep anyone off their feet and make a person the center of attraction. Though it has a complex look, it is no doubt pretty simple to do. Curls and braids are very attractive combination.